Trying to recapture a favorite Mulaku Varutha Puli that my amma prepares. It's wonderful tangy, easy peasy curry.Its take only 2 to 3 mins to cook and great combination with steamed rice..My whole family loves this.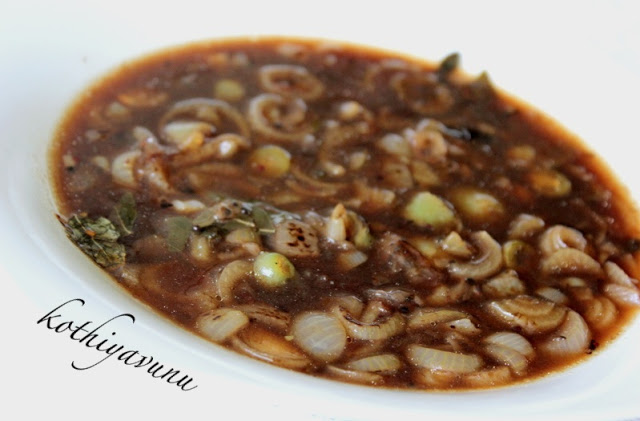 This recipe prepared around Palakkad (a city in the Indian state of Kerala) and I am not sure if this dish popular in any other parts of Kerala.
A handful of red small onions/shallots with couple of green chillies sauteed and cooked in a thin tamarind sauce and a seasoning of mustard seeds with curry leaves. If you have not tasted it, do give a try with pipping hot rice and pappad , I sure you will be hooked!

Recipe for Mulaku Varutha Puli – Palakkad Style / Small Red Onions & Green Chillies in Tamarind Sauce
Ingredients :
Small onions/Shallots/Kunjulli : 8-10 (chopped)
Green chillies : 4-5 or to your tolerance level (chopped)
Tamarind : lemon sized ball or 1tbsp pulp (soaked in 1cup of hot water for 10 mins)
Jaggery : a small piece
Mustard seeds : 1/2 tsp
Fenugreek seeds : 1/4tsp
Curry leaves : 1 sprigs
Coconut Oil : 11/2 tsp
Salt to taste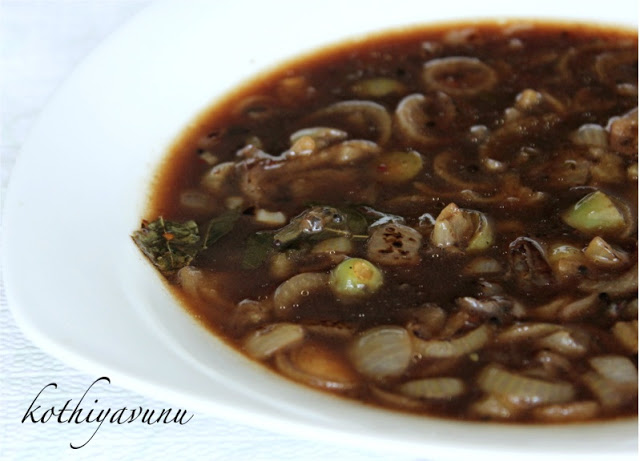 Method of Preparation :
1. Soak tamarind/puli in 1cup of water for 10 minutes and extract juice from it and or if using pulp dissolve it in hot water and keep it aside.
2. Heat coconut oil in a pan/kadai, add mustard seeds when it starts to splutter, add fenugreek,curry leaves and saute for a minute.
3. Add chopped onions,chopped green chillies and saute until the onions become translucent.
4. Add tamarind juice and allow it boil, when it starts to froth.
5. Add jaggery/sharkkara and remove from heat. Serve with hot and steamed rice.
Check here for more Vegetarian Gravies & Curries.
Happy Cooking!
Sangeetha