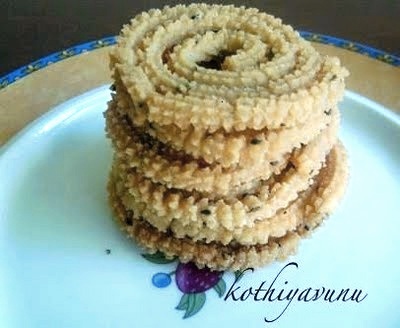 Recipe for Mullu Murukku


Ingredients :
Rice flour : 2 cups (sifted well)
Urad dal flour : 2 tsp
Melted butter : 2 tsp
Sesame seeds : 1 tsp
Cumin seeds : 1 tsp
Asafoetida powder : a pinch
Salt to taste
Oil for frying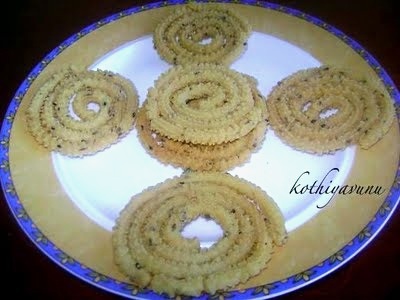 Method of Preparation:
1. In a heavy bottomed pan, fry urad dal till light brown and let it cool; Grind it into a fine powder.
2. Mix rice flour with urad flour in a bowl.
3. Melt the butter and add it to the flours.
4. Add cumin seeds,sesame seeds and asafoetida powder and mix it well until it form into a dough.
5. Use plastic sheet lightly brushed with oil/butter.Smear the murukku mould with oil on the inside for easy pressing.
6. Take a small amount of dough and place it inside the murukku mould.
7. Press the dough on the plastic sheet and slightly rotate the mould round and round until you make a circle.
8. Heat the oil in the frying pan.
9. Remove it from the plastic to your hands and drop into the heated oil, fry until they are golden brown in colour.
10. Drain them in a paper towel to remove excess oil, let them cool. Store in an air tight container. Enjoy crispy and tasty crunch snacks!
Check here for more Snack recipes.
Cheers!
Sangeetha