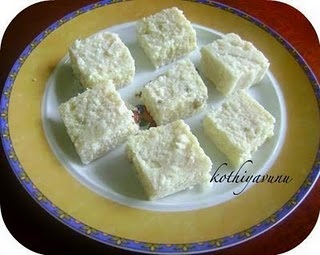 Paneer Kalakand Recipe
Preparation Time : 15 mins
Cooking Time-approx 45 mins to 1 hr
Makes : approx 24 pieces
Ingredients :
Paneer : 1 cup (grated)
Milk : 4 cups
Sugar : 1 cup
Spatika powder /Alum /Pitakari : 1/4 tsp
Cardamom powder : 1/4 tsp
Ghee /Clarifed Butter : 1/2 tsp
Almonds and Pistachios : 1/4 cup (crushed)
How to make Kalakand – Traditional Method :
1. Boil the milk in a heavy bottom kadai, once the milk starts to boil and lower to heat and simmer, until the milk gets thick and is reduced to about one fourths of the original quantity.
2. Add alum/phitkari to the thickened milk. Keep stirring till the milk becomes granular.(Note : Care should be taken that milk does not stick to the bottom of the pot.)
3. Add paneer and sugar on low heat,keep stirring till khoya-paneer mixture thickens to a waterless-firm lump. This process takes about 45 minutes to one hour.
4. Add cardomom powder and crushed pistachois/almonds and mix well.
5. Grease the plate with ghee/clarified butter and pour it over and level it evenly.
6. Allow it to set for 2-3 hours in a cool and dry place.
7. Cut the kalakand into squares or diamond shaped pieces. Serve and Enjoy!
Notes :
If kalakand is too soft; put the plate in microwave oven for 2-3 minutes on medium but make sure it don't become dry.
Can also add some rose water instead of cardamom powder.
You can store it in the refrigerator for 4-5 days in an airtight container
Check here for more Sweet recipes.
Cheers!
Sangeetha