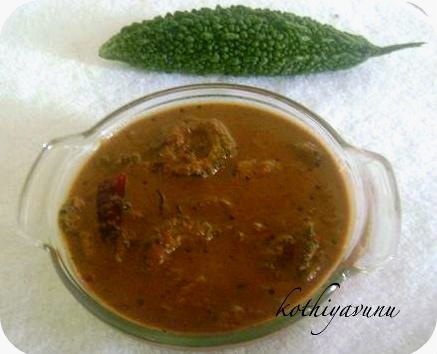 Recipe for Pavakka/Kaypakka Theeyal /Bitter Gourd cooked in Roasted Coconut Gravy
Ingredients:
Bitter Gourd /Pavakka/Kaypakka : 2 nos (cleaned and thinly sliced)
Shallots/Pearl Onion : 1/2 cup
Grated coconut : 1 cup
Tamarind juice (extracted) : a goose berry sized ball (soaked in the water)
Turmeric powder : 1/4 tsp
Red chilly Powder : 1 tsp or to ur spice level
Coriander Powder : 1 tsp
Fenugreek powder : 1/4 tsp
Black Pepper Corn : 1/2 tsp
Dried Red chilly : 2 nos
Mustard Seeds : 1/2 tsp
Curry Leaves : 1 sprig
Coconut oil : 3 tbsp
Salt to taste


Method of Preparation :
1. Heat a oil and add half of shallots/kunjuulli,bitter gourd/pavakka,turmeric powder salt and cook on a low flame, till the shallots and bitter gourd pieces are cooked well in oil.
2. Take another pan and add 1tsp coconut oil,add remaining shallots,grated coconut,coriander,red chilly powder and fry till turns to brown in colour.
3. Remove from the fire and grind to a fine paste using a little water.
4. Add the tamarind juice and 1 cup of water and cook its done.
5.Add the ground paste,fenugreek powder,stir well and allow to boil for a few min on low flame till the gravy thickens.
6.Heat oil in another pan/kadai,splutter mustard seeds,add red chillies,curry leaves.Pour the seasoning into the curry and mix well.
7.Serve & Enjoy with steamed rice.
Check here for Ulli Theeyal
Now comes the awards :
My blogger friends latha,SE(Denufood),Babli have shared some awards with me….thanks a ton for thinking of me and passing to me.:) I am happy to receive this from u guys..i'm truly touched!!
I thank everybody for all the appreciations and encouragements…:)
From latha,SE(Denufood) Thank u latha,SE(Denufood).
From SE(Denufood) Thank u Denufood

From Babli Thank u Babli.
I would love to share this awards to all my blogger friends because I love every one's blog.I request all my lovely friends to feel free to accept it and post it and share it with your friends.
Happy blogging!
Sangeetha