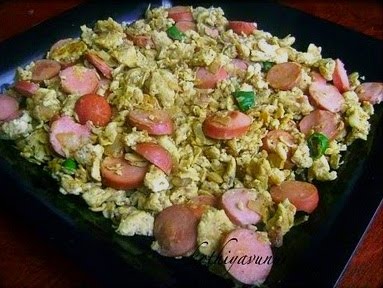 Recipe for Egg Scrambled Sausage Stir Fry


Ingredients :
Chicken Franks /Sausages /Hot Dogs : 4-6 nos diced into rounds shape
Onions :1 (medium, finely chopped)
Green Chillies : 2-4 (chopped)
Turmeric Powder : a pinch
Red Chilly Powder : 1/2 tsp
Pepper Powder : 1/4 tsp or to taste
Eggs : 2 (beaten)
Oil :1 tbsp
Salt to taste
Method of Preparation :
1. Beat eggs with salt,pepper powder and keep aside.
2. Heat oil in the pan and add chopped onions,green chillies and saute until translucent.
3. Add the diced hot dogs,saute fry until lightly browned.
4. Add a the turmeric,red chilly powders and saute for a minute.
5. Add the beaten eggs and scramble thoroughly once it begins to set, remove from the fire.
6. Serve as side dish for lunch or as a sandwich filling and Enjoy!
Check here for more Non-Vegetarian Side Dishes.
Good Day All!
Sangeetha