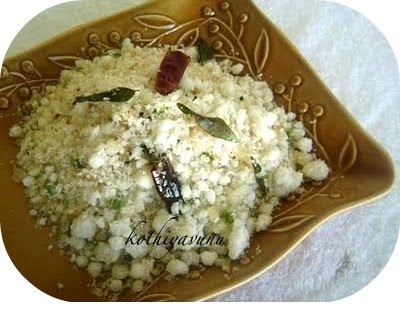 Recipe for Puttu Ularthiyathu/Puttu Uppuma
Ingredients:
For Puttu:
Raw rice/Rice flour : 2 cups
Grated coconut : 1 cup
Salt to taste
Water : to sprinkle
For Seasoning :
Onion : 1 medium (finely chopped)
Dried red chilly : 3 (broken into 2pieces)
Ginger : 1/2″ piece (chopped)
Mustard seeds : 1/2 tsp
Curry leaves : 1 sprig
Ghee/Oil : 1tbsp
Salt to taste
Method of Preparation :
1. Mix salt in water.
2. Sprinkle the water little by little to the rice flour and mix it well,just to make the powder wet and smooth(do not sprinkle a lot of water).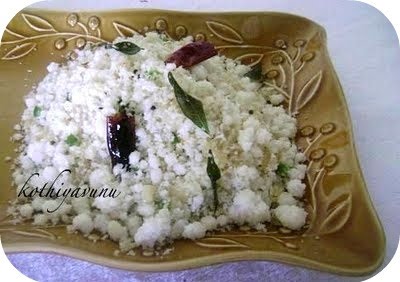 3. Now add a fistful full of grated coconut in the puttu maker and then add the rice flour till half, then add another handful of coconut. This is done till you reach the top.
4. Close the lid and steam for 4-5minutes or until the steam passes from the top of the puttu kutti.
5. Cool it and crush the steamed puttu well.
6. Heat ghee in a pan;add mustard seeds,dry red chilly, chopped ginger, curry leaves chopped onions and saute till turns to transculent.
7. Add the crushed cooked puttu;combine and sprinkle little water into it and stir it
well and adjust the salt,remove from the heat. Serve and enjoy!!
Click here for more Breakfast recipes.
Cheers!
Sangeetha