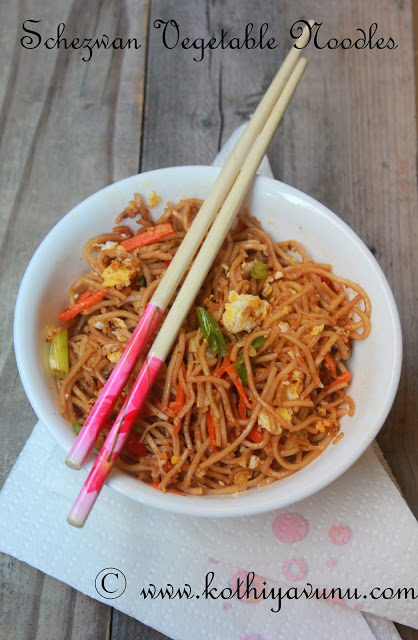 Schezuan Vegetable Noodles Recipe – Schezwan Hakka Veg Noodles Recipe
Preparation Time : 10 mins
Cooking Time : 10 mins
Serves :4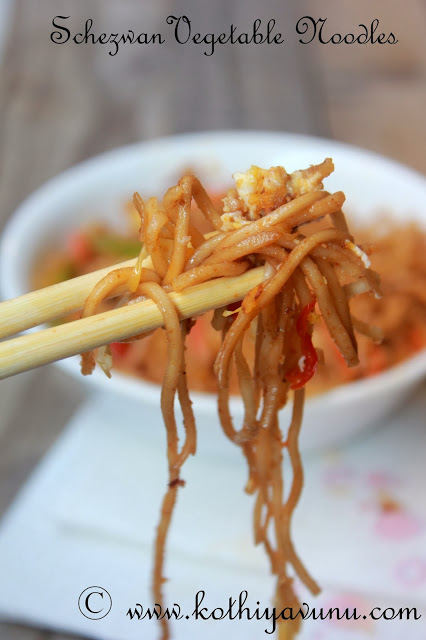 Ingredients :
Noodles : 1 packet
Vegetables (Carrots,Green Beans,Potatoes) : 2 cups(sliced, thinly)
Mushroom : 1/2 cup (diced)
Onions : 1 medium,(thinly,sliced)
Green Capsicum : 1/2 (sliced)
Soy Sauce : 1 tbsp
Red Chilly Sauce : 1 tbsp
Red Chilly paste : 1 tbsp
Sun dried Tomatoes : 3 (Optional)
Vinegar : 2 tbsp
Egg : 1 beaten, (Otional)
Oil as needed
Salt to taste
How to make Schezuan Vegetable Noodles – Schezwan Hakka Veg Noodles:
1. In boiling water add noodles with 1/2 tsp of oil.(this process will prevent noodles from sticking together.
2. Cook it for 7 minutes and wash the noodles immediately in cold running water. Drain well and keep aside.
3. (Optional)-In a small frying, scramble the beaten egg with adding little salt to it and keep it aside.
4. Heat oil in a pan and add onions,capsicum and stir fry for sometime.When it starts to change its color.
5. Add vegetables,tomatoes,scrambled eggand saute it well.Add red chilly paste into it then add all the sauces and little salt.
6. Add cooked noodles slowly into it and mix it thoroughly.
8. Add vinegar and keep it in high heat for 3-4 minutes stirring continuously. Serve hot when its done and Enjoy!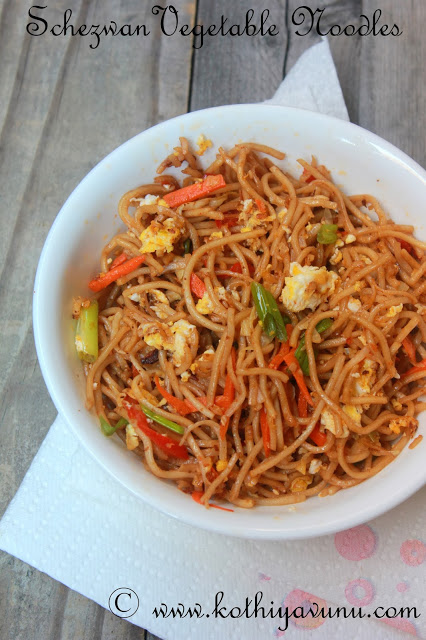 Now Comes the Award:
Aysha ofLife Today has Given me few sets of Awards and has meme. I have been tagged before as well, So please view themhere.Thank u very much aysha.

I would like to pass the above awards and meme to all my fellow blogger friends. Please feel free to accept it and post it in your blog.
Happy Blogging!
Sangeetha