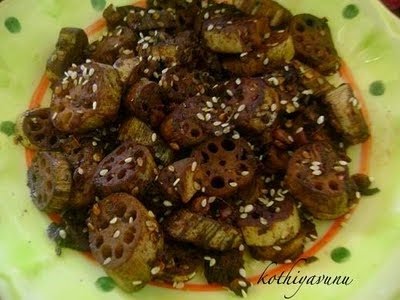 Recipe for Thamara Valayam Mezhukkupuratti/Stir-fried Lotus Root


Ingredients :
Lotus root : 1 cup (sliced thinly, Can use fresh or frozen)
Garlic : 1 tbsp (crushed)
Ginger : 1″ piece (peeled and grated)
Small Red Onion /Shallots : 5-8 (crushed)
Crushed Red Chilli Flakes : 1 tbsp
Crushed Black Pepper : 1/2 tsp
Turmeric Powder : 1/4 tsp
Vinegar : 1 tsp (mixed with 1/4 cup water)
Sesame oil : 1 tbsp
Sesame Seeds : 1 tbsp
Salt to taste
Method of Preparation :
1. Put the sliced lotus root into vinegar water as you slice it.
2. Add very little water to the sliced lotus root, add turmeric powder,salt and boil it with lid closed.
3. Cook until the lotus root slices start to change color – they turn a bit translucent looking.When the pieces turn soft (will take about 5 minutes); Drain the excess water.
4. Heat a frying pan with the oil, lightly saute the crushed garlic, crushed red chilli flakes, crushed shallots and fry till golden brown.
5. Add the boiled lotus root slices and turn over and cook a couple more minutes.
6. Add the sesame seeds, crushed black pepper. Remove from the fire. Serve hot or cold.
Check here for Vegetarian Side Dishes.
Now Comes the Award
My friend Lissie has honoured me with this award. I am so happy to receive it from her and thank her for all the appreciation and encouragement.Thank u Lisse for thinking of me and sharing it with me.
This award goes with a fun meme which has to be passed on to 6 of your favourite blogs and which has to be answered with only one word.
Here is the meme part:
1. Where is your cell phone: Table
2. Your hair: Black
3. Your mother: Chandrika
4. Your father: Deceased
5. Your favorite food: Prawns
6. Your dream last night: None
7. Your favorite drink: Coffee
8. Your dream/goal: Travelling around world
9. What room are you in: Living room
10. Your hobby: Music
11. Your fear: Snakes
12. Where do you want to be in 6 years: India
13. Where were you last night: Home
14. Something you aren't: Selfish
15. Muffins: Strawberry
16. Wish list item: Cartier watch
17. Where did you grow up: Chennai
18. Last thing you did: Played with kids
19. What are you wearing: Skrit&Top
20. Your TV: On
21. Your pets: No
22. Your friends:Hubby
23. Your life: Great
24. Your mood: Happy
25. Missing someone: Dad
26. Vehicle: Yes
27. Something you're not wearing: Glasses
28. Your favorite store: Macys
29. Your favorite color: Black
30. When was the last time you laughed: Afternoon
31. Last time you cried: Unsure
32. Your best friend: Manasa
33. One place that I go over and over: San Fransisco
34. One person who emails me regularly: Friend
35. Favorite place to eat: Home
I would like share this awards & meme to:
Sandhya
Sree
Pria
Mythreyi Dilip
Sushma Mallya
Priya
Enjoy and Happy blogging!
Sangeetha