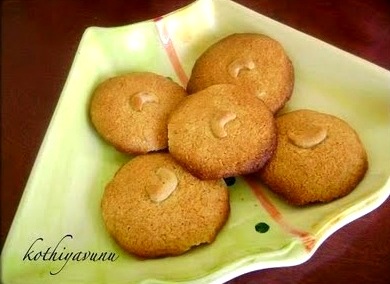 Recipe for Coconut Cookies /Thenga Biscuit

Ingredients :
All purpose flour/Maida : 11/2 cup
Baking powder : 1 tsp
Condensed Milk/Milkmaid : 1/4 cup
Sugar : 3/4 cup
Butter : 1/2 cup
Grated Coconut : 1 cup
Cashew nuts for garnishing (optional)
Method of Preparation :
1. Mix the baking powder with all purpose flour and sift the flour, set aside.
2. Mix sugar, butter, milkmaid and grated coconut together well. Pour this mix to the flour mix and combine well.
3. Preheat the oven to 350 F /180 C degrees.
4. Divide the cookie mix and make a small balls. Place them on the greased baking sheet.
5. Leave 1 or 2 inches of space between them since cookies become double in size after baking.
6. Granish cashews on the top(optional). Place the baking pan into oven and bake for 20 minutes or till golden brown.
7. Check and bottom side is lightly brown then remove from oven and let it cool on the baking sheet for about 10 mins and let it cool completely and Enjoy!
Check here for more Cookies recipes.
Now comes the award
Collaborative Curry and Sree has honoured me with this beautiful award Thank you so much for this honor and its really encouraging!
I would love to share this awards to all my blogger friends because I love reading every one's blog.I request all my lovely friends to feel free to accept it and post it in your blog.
Happy blogging!
Sangeetha