Have tried Ennai Kathirikkai Kuzhambu? This is a must-try!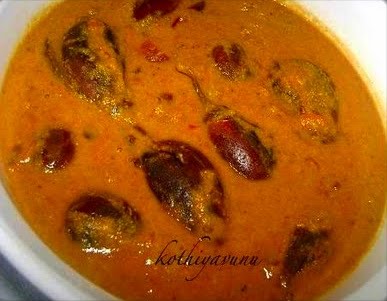 Whole Brinjal Curry- Ennai kathirikkai kuzhambu is yet another my family's favorite recipe. Whenever I gets small brinjals from the grocery store, I prepares this dish. This is one of the most exotic dishes among Tamilian's.Tender eggplants-brinjal are stuffed with the roasted masala mixture and shallow fried in oil to get it cooked and again it is simmered/cooked in masala tamarind gravy to get the traditional taste.
Do try this sometime am sure you will like it!
Ennai Kathirikkai Kuzhambu Recipe | Eggplant-Brinjal-Vazhuthananga Curry | Stuffed Eggplant in Tamarind Sauce Curry


Ingredients:
Small Brinjals /Eggplant : 8 to 10 nos
Tamarind : lemon size ball
Turmeric powder : 1/2 tsp
Mustard seeds : 1/2 tsp
Curry leaves : few
Salt to taste
Gingelly Oil : 3 tbsp
For Stuffing:
Toor dal : 1/2 tsp
Channa dal : 1/2 tsp
Urad dal : 1/2 tsp
Fenugeek seeds : 1/4 tsp
Cumins seeds : 1/2 tsp
Coriander seeds : 1 tsp
Asafoetida : a pinch
Dry red chilli : 5-8 nos or to your spicy level
Grated Coconut : 3 tbsp
Chopped onions : 3 tbsp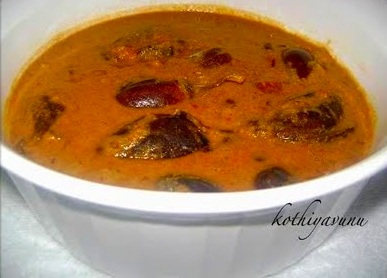 How to make Ennai Kathirikkai Kuzhambu | Egg Plant -Brinjal – Vazhuthananga Curry :
1. Soak tamarind in 1 1/2 cup of warm water for 10-15 minutes and take juice and keep it aside.
2. Heat 1 tsp of gingelly oil in a pan; add fenugeek, cumin, coriander seeds, toor dal, channa dal, urad dal, dry chilli, asafoetida and fry for few minutes.
3. Cool it and grind with grated coconut and onion to a smooth paste; set it aside.
4. Cut the brinjals with stems into 4 quarters and stuff the grounded paste to the brinjals and marinate them for 10-15 minutes.
5. Heat oil in a pan,add mustard when its starts to splutter, add curry leaves and reduce the fire to low now slide the marinated brinjals and stir occasionally.
6. Close the pan with a lid and allow the brinjals to cook for few minutes.(make sure the brinjals are not broken).
7. Add tamarind juice, turmeric powder salt and close the pan with lid bring it to boil.Cook till the curry thicken and oil separates. Serve with hot rice and pappadam… Enjoy!
For more Vegetarian Gravies and Curries.
Now Comes Award
My blogger friend Preethi vijayhas honoured me with a beautiful award which is designed by her. I am very excited and encouraged by this generous gesture from Preethi.Thank you so much preethi for this honor!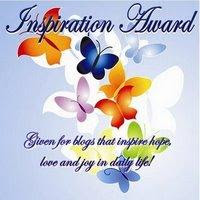 I would love to share this awards to all blogger friends because I love every one's blog.I kindly request all my lovely friends to feel free to accept it please and post it in your blog and share it with ur friends.
Happy Blogging!
Sangeetha