Today, I have an easy Mambazha Kaalan as part of Onam sadya recipe. Your jaw just dropped, didn't it? This Kaalan is divine and really easy to make, I promise.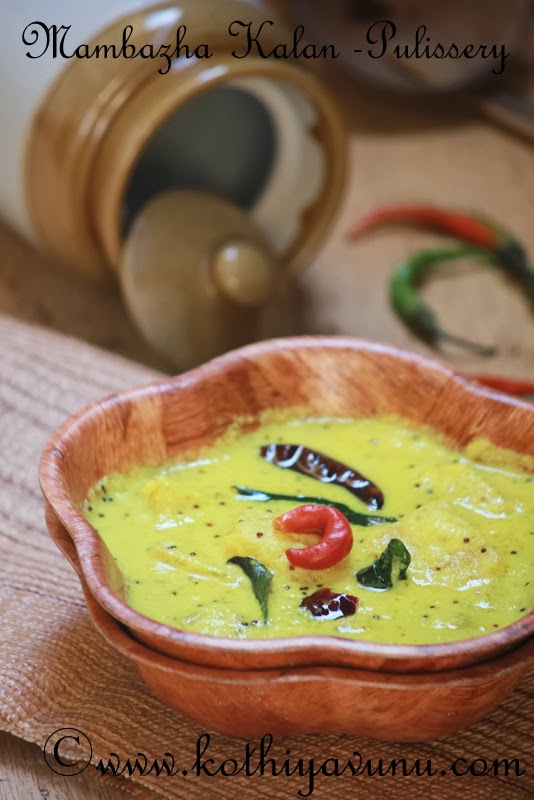 Mambazha Kalan -Pulissery is a sweet and sour curry simmered in yogurt and coconut gravy. Traditionally this recipe made using ripe nattu manga, a special variety of mango having a unique smell and small in size. Ripe mangoes are been cooked in its own juice, which makes the curry so special. But I made it with normal sweet mangoes because, I couldn't get nattu manga here in US. If you have access to nattu manga use them instead for a more delicious or if not available, you can use any sweet variety.
Here it is for you to try out…Enjoy!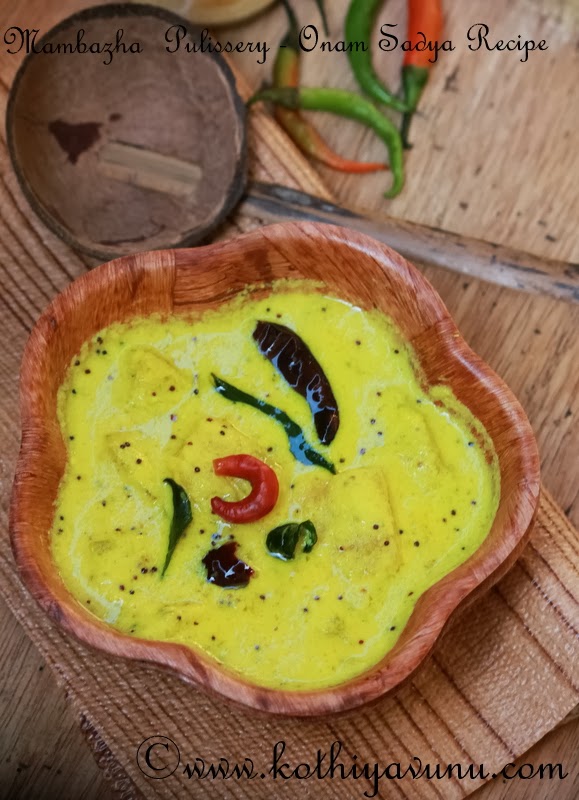 Mambazha Kalan-Kaalan- Recipe – Mambazha Pulissery Recipe – Onam Sadya Recipe – Mango Puliserry
Preparation time : 15 mins
Cooking time : 20 min
Serves : 4-6
Ingredients :
Nattu Manga/Ripe Whole Mango : 4 to 6 peeled or Any sweet variety Mango : 2 big sized (peeled, chopped into pieces)
Turmeric Powder : 1/2 tsp
Red Chilly Powder : 3/4 tsp
Crushed Black Pepper : 1/4 tsp
Roasted Fenugreek Seeds powder : 1/4 tsp (dry roast and powdered)
Ghee /Clarified Butter : 1/2 tsp
Curry Leaves : 1 sprig
Salt to taste
To Grind :
Grated Coconut : 1/2 cup
Ripe Mango : 4-5 pieces or if your using nattu manga use 1 small
Thick Sour Yogurt /Curd : 11/2 cups (stirred well)
Cumin Seeds : 1/2 tsp
Green Chillies : 4-5 nos
To Temper :
Coconut Oil : 2 tsp
Mustard Seeds : 1 tsp
Whole Dry Red Chilies : 2
Curry Leaves : 1 sprig

How to make Mambazha Kalan-Kaalan Recipe :
1. If using nattu manga(small sweet mango) peel the skin and use whole mango or if using other variety mangoes, then chop them into pieces.
2. In thick bottomed vessel, add mangoes, turmeric powder, red chilly powder, crushed black pepper, curry leaves, salt to taste along with little water and mix well and if your using nattu manga (sweet small mango) then don't add water just squeeze the mangoes well with your hand. (Note : This will bring out the pulp and juice of the mangoes to cook the same)
3. Bring to a boil and reduce the fire. Cook the mango mixture well in the pulp and be careful of not burning it.Stirring occasionally until the gravy is thickened to a pouring consistency. (Note : You have to decide about the consistency of the kalan-pulissery, remember when once it cools down it thickens further therefore decide on the consistency).
4. Meanwhile grind all the ingredients listed above 'To Grind' without adding water into a fine paste.
5. Add ghee and combine well; now switch off the stove when the mango gravy gets thick and cooked well.
6. Add the grounded coconut paste and mix well. (Note: You don't have to boil this again. Just mix it well.) Let it to cool.
7. Adjust the salt and add sugar if needed (Note : If the mango is not that ripe then you can add sugar or just skip adding sugar)
8. Dry roast the fenugreek seeds to a golden brown and grind to a fine powder and sprinkle the fenugreek powder and set it aside.
9. In a frying pan, heat the oil and add the mustard seeds. When these start to splutter, add the rest of the seasoning ingredients and fry till the chilies turn dark brown.
10. Pour the seasoning to the kaalan-pulissery and cover the dish for 10-15 mins. Let the flavor set.
11. Yummy Mambazha pulissery- Mambazha Kalan-Kaalan is ready.Serve with rice along with Kaya Mezhukkupuratti or with any other Spicy Side dish as you wish and enjoy!
Notes :
For Kalan-Pulissery the curds/yogurt used must be sour, If you feel if yogurt is not sour enough then just leave in room temperature at least for couple of days.
If you wish you can add any other oil, using coconut oil gives authentic & special flavor to the dish.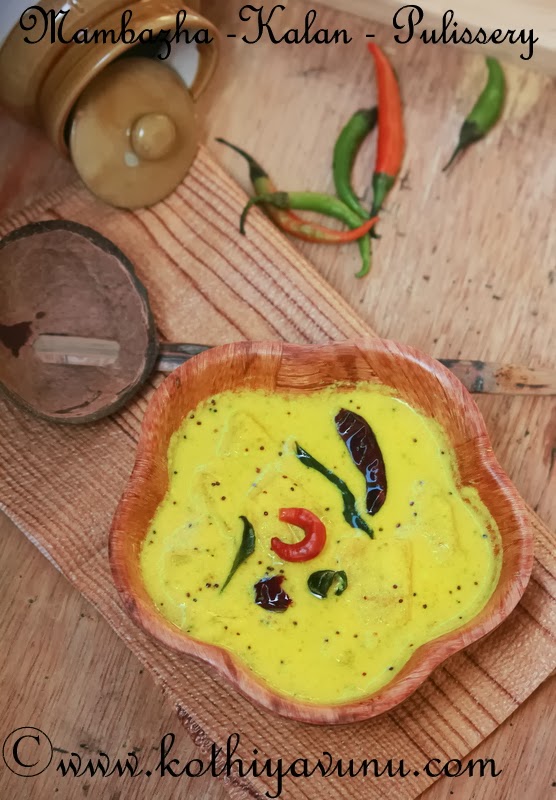 Related Posts :
Kumbalanga Moru Curry /Kumbalanga Pulissery
Pineapple Pulissery /Pineapple in Yogurt Gravy
Kurukku Kalan /Katti Kalan /Thickened Yogurt Gravy
Kaalan /Kalan /Yogurt Curry with Ground Coconut
Click here for more Kerala Sadya Vibhavangal
Happy Cooking!
Sangeetha