It is yet another curry from the land of coconut trees..I think Kerala will be the only cuisine calling for so much of coconut dishes in particular…Sometimes I wonder how such simple and humble things when put together makes such a mouthwatering dish!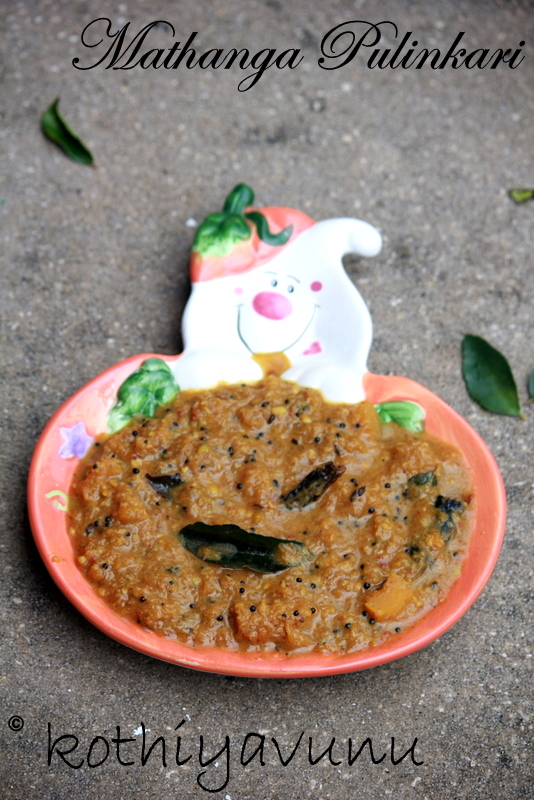 Mathanga Pulinkari was one of my mom's staple recipes, when I was growing up. If this curry tastes good the credit is my mom's. This is a very simple easy to make and goes well with rice…Every time I buy pumpkin, I make this curry and even I shared this recipe with a couple of my friends and they all gave me the thumbs and good feedback too. I hope you will have the same experience and be happy with this authentic amma's recipe.
So head out to the market, pick up pumpkins, and cook up this easy curry for a truly healthy and delicious curry!
Recipe for Mathanga Pulinkari | Pumpkin Curry | Pumpkin in Coconut and Tamarind Sauce


Ingredients :
Pumpkin /Mathanga : 2 cup (cut into one inch cubes)
Grated Coconut : 3 tbsp
Red Chili Powder : 1 tsp
Turmeric Powder : 1/2 tsp
Coriander Seeds : 1 tsp
Fenugreek/Methi seeds : 1/4 tsp
Toor Dal : 1 tbsp
Urad Dal :1 tbsp
Tamarind extract : 1 tbsp
Asafoetida/Kayam Powder : 1 tsp
Curry leaves : 1 sprig
Dry red chilies : 2-3 nos
Salt to taste
Oil : 1 tsp


How to make Mathanga Pulinkari | Pumpkin Curry :
1. Cook the pumpkin with the curry leaves,turmeric powder,chilly powder,asafoetida and salt till it turns to soft & tender.
2. Add the tamarind extract; reduce the fire to low and cook for a few minutes.
3. In a frying pan,roast the grated coconut,coriander seeds, fenugreek/methi seeds,urad and toor dal saute until it turns to light brown colour. Remove from the fire and allow it to cool.
4. Grind the fried coconut mixture into a smooth paste.
5. Add the grounded coconut paste to the pumpkin curry and mix well reduce the fire to low and cook for 2-3 minutes.
6. Heat the oil in a frying pan and pop mustard seeds add dry red chillies and pour the seasoning to the pulinkari…Serve hot with rice and Enjoy !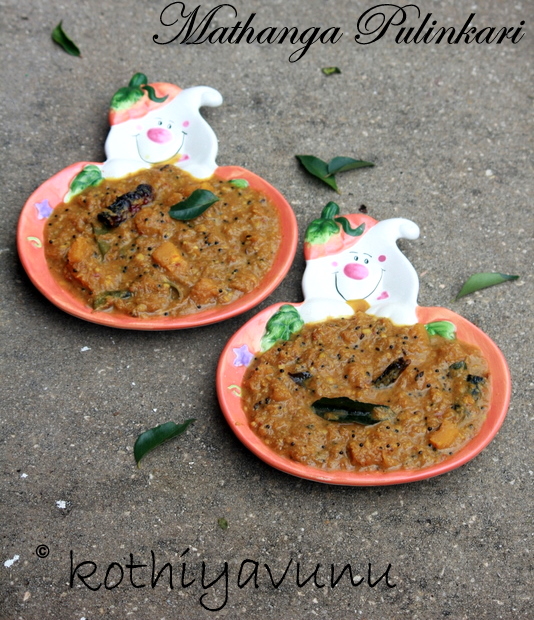 Notes:
Other vegetables you can use for pulikari.
Raw green plantains/Vazhakka
Yam/Chena
Cucumber/Vellarikka
Ash Gourd/Kumbalanga
Raddish /Mullangi
Check here for more Vegetarian Gravies & Curries.
Have a Good Day!
Sangeetha