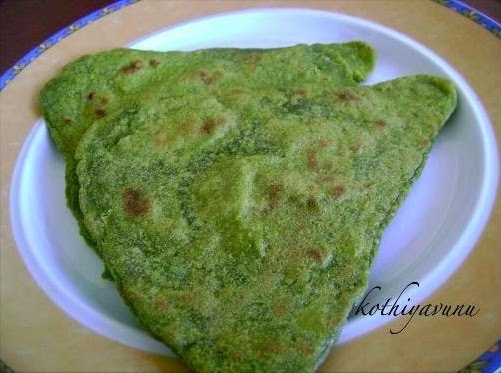 Recipe for Palak/Spinach Paratha /Indian Bread with Spinach


Ingredients:
Whole wheat flour : 2 cups
Oil : 1 tbsp
Spinach : 1 large bunch (coarsely chopped)
Plain Yogurt : 1/4 cup
Garlic : 2 cloves
Coriander powder : 1 tsp
Cumin powder : 1 tsp
Turmeric powder : 1/2 tsp
Red chilli powder : 1/2 tsp
Asafetida powder : 1/4 tsp (optional)
Salt to taste
Oil/Ghee (clarified butter) to pan-fry the parathas
Method of Preparation:
1. Mix wheat flour and oil well and set it aside.
2. Grind the spinach,garlic,coriander,cumin,red chilli,asafetida and turmeric powders, salt to taste,into a fine paste.Blend it without water.
3. Add this spinach mixture,yogurt to wheat flour mix all together and form a medium-soft smooth dough. If the dough is hard add a little water.
4. Rub a few drops of oil on to the smooth dough to prevent drying.Set the dough; keep it aside and cover it with a damp cloth. Let the dough rest for at least 10-20 minutes.
5. Divide the dough into equal-sized portions and roll into balls between your hands till they are smooth.
6. Dip the balls into dry flour to prevent it from sticking to surface while rolling.
7. Roll each ball into a small circle; spread oil onto half of the circle.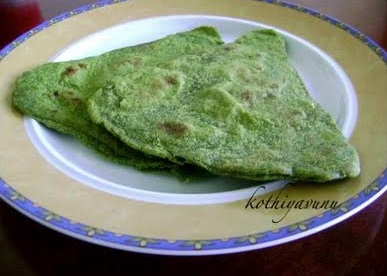 8. Fold the circle into a semi-circle; spread oil onto 1/2 of the semi-circle.
9. Again fold semi-circle into half to form a triangle.Dip into dry flour once more and roll triangle out into paratha. You can also roll it into a round shape.
10. Heat a griddle/tava and add oil to it. See the fumes coming out of it then place the paratha for cooking on the griddle or tava..
11. Do the first flip when you see tiny bubbles rise on the surface of the paratha.
12. Wait another 10-20 seconds, lightly drizzle ghee onto the top and flip over and lightly press the puffed areas with a spatula.
13. Lightly drizzle ghee on this side and flip again and repeat process for remaining parathas.
14. Serve hot with yogurt, pickle or any curry of your choice and Enjoy!
Notes : Serve spinach paratha by applying butter on it when it is hot.
For other paratha recipes check here :
Egg Paratha
Aloo Paratha
Now Comes the Award
Anncoo has honoured me with this beautiful 2009 Blogger Appreciation Award.Thank you so much Anncoo for this honor and its really encouraging!
I would love to share this awards to all my blogger friends.I request all my lovely friends to feel free to accept it and post it in your blog.
Happy blogging!
Sangeetha