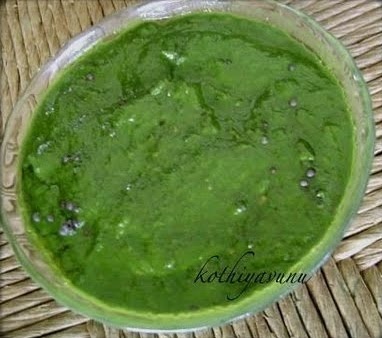 Recipe for Spinach /Palak Chuntey
Ingredients:
Fresh Spinach/Palak : 4-6 handfuls
Shallots/Small Onion : 10 (chopped)
Green chillies : 1-2 nos (sliced)
Grated coconut : 3 tsp
Cumin : 1 tsp
Ginger : 1″ piece
Garlic : 2 cloves
Salt to taste
Olive oil : 2 tsp
For Tempering :
Olive oil : 1 tsp
Asafotida/Hing/Kayam : a pinch
Mustard seeds : 1/2 tsp
Curry Leaves : sprig


Method of Preparation:
1. Heat a pan with oil on medium high, add cumin seeds,ginger and garlic; saute till lightly brown.
2. Add the chopped onions and saute till it becomes translucent.
3. Add green chillies,grated coconut salt,and cook under medium flame till everything is just done.
4. Turn off heat,add the spinach and mix well. (The heat from the mixture will wilt the spinach. Do not over cook).
5. Allow to cool. Add a little water and grind it in a blender till really smooth.
6. In another pan, add a little oil, then add the mustard seeds,when the mustard seeds start to splutter, turn off heat and add the curry leaves.
7. Pour the seasoning to the chutney. Mix well, serve and Enjoy!
Click here for more Chutney Recipes
Have a good day!
Sangeetha