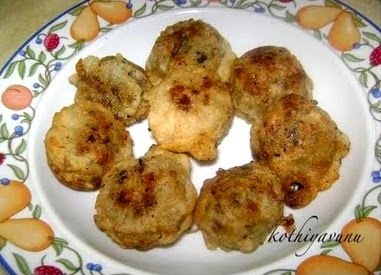 Recipe for Sukhiyan /Green Gram Balls – Kerala Snack

Ingredients :

Cherupayar/Moong Dal/Green Grams : 1 cup
Jaggery : 1/2 cup
Grated Coconut : 1 cup
All Purpose flour/Maida : 2 cups
Rice flour : 2 tbsp (Optional ) (It gives crispy structure to the covering)
Cardamom powder : 1/4 tsp
Salt a pinch
Oil for frying
Method of Preparation :
1. Soak the greengram/cherupayar for 2-3hrs. Cook cherupayar with 2 cups of water and pinch of salt till water is completely drained off.(Do not overcook it)
2. In a pan melt the jaggery with 1/4 cup water.
3. When it starts melting add grated coconut and cooked greengram mix & combine well.
4. Saute well till mixture thicknes and dry; now add cardamom powder and mix well.
5. Remove from heat and allow it to cool.
6. Make some small lemon sized balls with greengram mixture.
7. In a blow mix all purpose flour,salt and rice flour – optional and make a thick paste adding water. (Note : adding rice flour gives crispy structure to the covering)
8. Heat oil in a pan, dip each of the balls in the batter & deep fry till golden brown. Serve hot with tea and Enjoy!
Check herer for more Snack recipes.
Have a good day!
Sangeetha