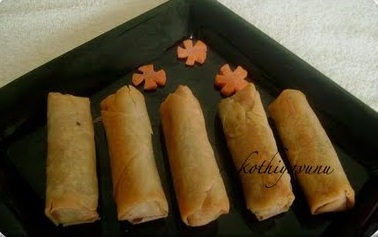 Recipe for
Vegetable Spring Roll /Spring Roll


Ingredients :
Spring Roll Pastry Sheets
Shredded Carrot : 1cup
Shredded Cabbage : 1/2 cup
Capsicum : 1/4 cup (finely chopped)
Beans : 1/2 cup (finely chopped)
Ginger-Garlic paste : 2 tsp
Soya Sauce : 1 tbsp
Black Pepper : 1/2 tsp
Salt to taste
Oil : 2 tbsp (for stir frying the vegetable)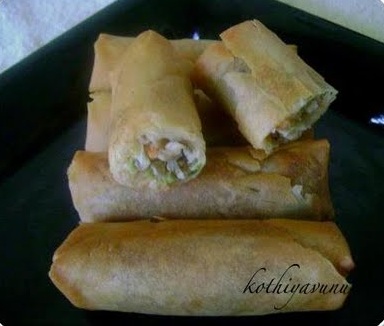 Method of Preparation :
1. Heat oil in a pan,add all vegetables,Ginger-garlic paste and saute for 5 minutes.
2. Add the soya sauce,salt,pepper,saute well for a minute,remove and keep it aside let it cool.
3. Take out one pastry sheet and spread it on a smooth flat surface like a diamond with one edge facing you.
4. Place 2tbsp of filling diagonally on the sheet.
5. Fold up one corner onto the filling and roll tight.
6. Take the two corners and fold over the filling so that filling is sealed on three sides.
7. Now fold the left over corner over the filling and close tightly sealing with a drop or two of water.(Complete all the rolls before you start frying)
8. Heat oil in a pan over medium-high heat,Fry the spring rolls on both sides turning them frequently untill the roll turns golden brown.
9. Remove the rolls and drain on paper towel.
10. Serve with ketchup or chili sauce and enjoy!!
Check here for more Starters recipes.
Now comes the award
My blogger friend Rashmi has honoured me with a beautiful award which is designed by her. I am very excited and encouraged by this generous gesture from rashmi.Thank you so much rashmi for this honor!

I would love to share this awards to all blogger friends because I love every one's blog.I request all my lovely friends to feel free to accept it and post it in your blog.
Happy blogging!
Sangeetha