A couple of days ago, I made this dish for lunch and it was too wonderful not to share with you. This mezhukkupuratti /stir fry is regular visitor in our house, coz not just tasty, it's also healthy…talking about the health benefits, Long beans is low in fat and offer an excellent source of protein, fiber, folic acid and complex carbohydrates.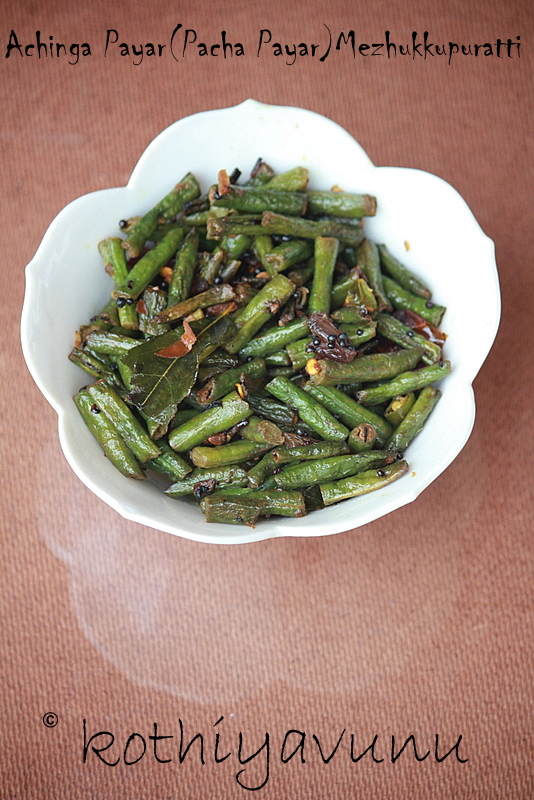 It's very simple yet tasty and very easy to cook that goes well with
rice
or with
Indian breads
. So, incorporate long beans in your diet and stay fit and healthy..Enjoy!
Recipe for Achinga Payar (Pacha Payar) Mezhukkupuratti / Long Beans Stir Fry


Ingredients :
Achinga Payar/Long Beans : 1/2 bunch
Cheriya ulli/Shallots/Pearl onion : 5-8 (crushed or finely sliced)
Garlic : 2 cloves (crushed)
Crushed Red chilly flakes : 1 tsp
Turmeric powder : 1/4 tsp
Curry leaves : 1 sprig
Green chillies : 2 slit
Mustard seeds : 1/2 tsp
Coconut oil/Cooking oil : 2 tbsp
Salt to taste
Method of Preparation:
1. Chop the achinga payar/long beans into 1″ long pieces.
2. Heat oil in a frying pan,add mustard seeds,when it splutters add the crushed garlic,shallots,green chillies,curry leaves and saute till it turns to lightly brown in colour.
3. Add crushed chilly flakes,turmeric powder and saute until raw smell is gone.
4. Add the chopped beans and mix well.
5. Sprinkle some water; cover and cook until beans is cooked.
6. Open the lid and stir fry until slightly browned. Serve with rice and Enjoy!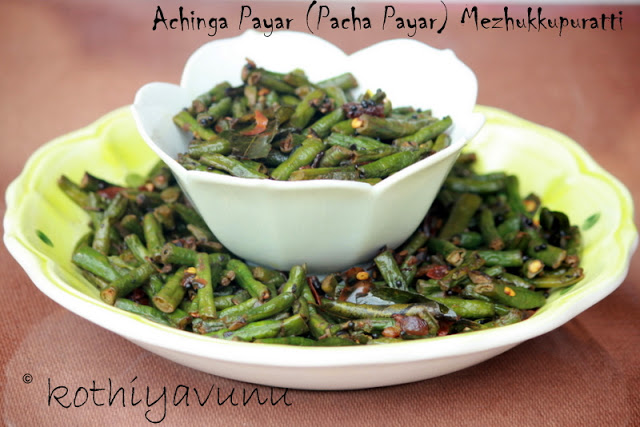 Notes :

You can also precook the payar/long beans with salt;sprinkle some water first and then stir fry and cook.
Using coconut oil give authentic taste.
Check here for more Vegetarian Side Dishes.
Cheers!
Sangeetha