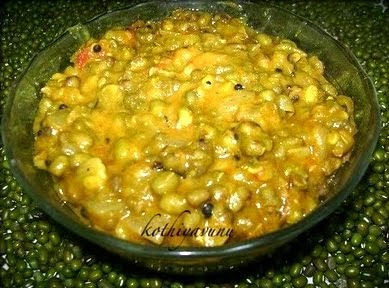 Recipe for Cherupayar Curry / Whole Green Gram Curry

Ingredients:
Whole Green Gram : 1 cup
Onion : 1 (medium,chopped)
Tomato : 1 (medium,chopped)
Ginger-Garlic paste : 1 tbsp
Green chillies : 2 nos (chopped)
Turmeric powder : 1/4 tsp
Red Chilli powder : 1/2 tsp
Coriander powder : 1/2 tsp
Gram Masala Powder : 1 tsp
Mustard seeds : 1 tsp
Curry leaves : 1 sprig
Salt to taste
Oil :1tbsp
Method of Preparation:
1. Soak the green gram overnight and pressure cook it with water and salt; set it aside.
2. Heat oil in a pan and splutter mustard seeds and curry leaves.
3. Add chopped onions and saute till it turns to translucent and now add green chillies,ginger-garlic paste and saute for a couple of minutes.
4. Add turmeric,red chilly,coriander and gram masala powders and mix well.
5. Add the chopped tomato,salt and cook till it turns to soft and mushy.
6. Add the cooked green gram and combine well and allow it boil for few minutes and adjust the salt. Serve hot with Chappati/Roti or rice.
Check here for more Vegetarian Gravies & Curries recipes.
Happy Cooking!
Sangeetha