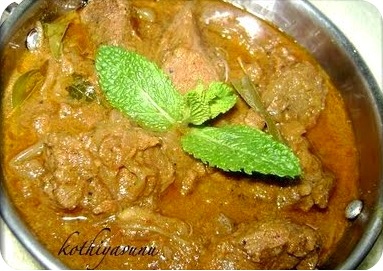 Recipe for Kerala Mutton Curry /Lamb /Goat Curry



Ingredients :
For Marination:
Mutton/(Goat/Lamb) : 1/2 lb /250 grms (cut into medium size pieces)
Turmeric powder : 1/2 tsp
Red chilly powder : 2 tsp
Coriander powder : 2 tsp
Ginger-Garlic paste : 2 tbsp
Vinegar : 1 tsp
Salt to taste
Coconut pieces : 3 tbsp
For Gravy:
Onion : 2 (big,thinly sliced)
Green chilly : 2-3 nos (slitlengthwise)gftr
Fresh Crushed Pepper powder : 1 tsp
Gram Masala powder : 1 tsp
Curry leaves : 2 sprigs
Coconut Oil : 1 tbsp
Salt to taste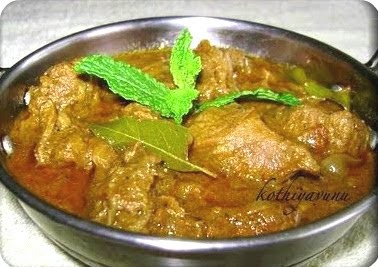 Method of Preparation :
1. Marinate mutton pieces with above marination ingredients for 1 hour and marinate the coconut pieces with little turmeric powder and salt for 30 mts and keep it aside.
2. Pressure cook the mutton with 1 cup of water and cook till its done (approx 20 mins).
3. Heat coconut oil in a pan and shallow fry the marinated coconut pieces to golden colour and remove and keep it aside.
4. In the same oil, add the sliced onions and saute till it turns to translucent and golden in colour.
5. Add fresh curry leaves,green chillies,fried coconut pieces and Saute it on the low heat for few minutes.
6. Add pressure cooked mutton with gravy(if needed add water),add pepper powder,salt and gram masala; Cook on low heat till the gravy thickens.(approx 30 mins).
7. Serve with rice, Appam ,Kerala Parotta or Neipathiri/Rice roti and Enjoy!
Check here for more Non-Vegetarian Gravies & Curries.
Happy Cooking!
Sangeetha