Palada Payasam – Queen of Payasam!
Sadya is a big feast associated with special occasions like festivals wedding, birthday or childbirth. Sadya is traditionally a vegetarian meal served on a banana leaf. The traditional dessert called Payasam is served at the end of the meal, is of many kinds and usually three or more are served.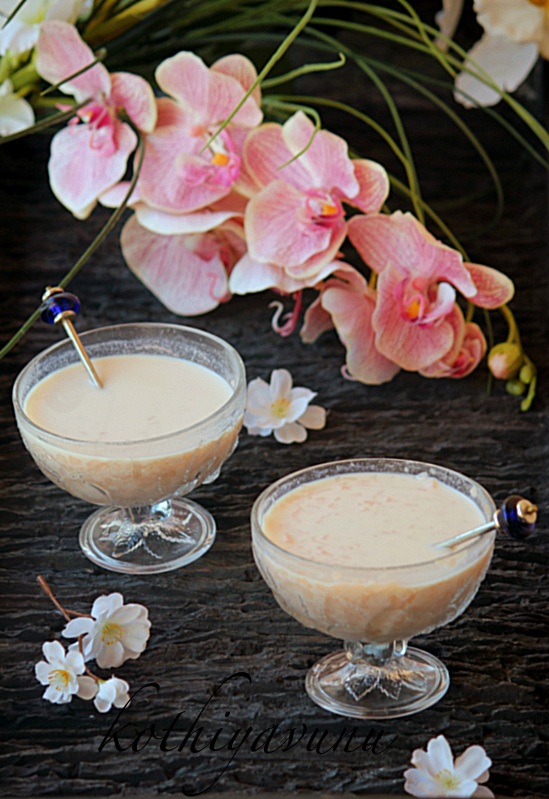 Palada Payasam plays a pivotal role in Kerala life. No.1 among sweet delicacies and most favorite of my family. Traditionally the ada is made from the scratch, grounded rice paste was spread in plantain leaves rolled and submerged into boiling water to make the rice flakes, but now day's ready-to-use ada are available at Indian grocery stores in dehydrated form and it is pretty easy to make this recipe, but the taste of the palada pradhaman depends upon the way the ada is made and boiling of milk in slow flame.
So today I am sharing old day method of preparing ada traditionally, which requires lots of patience and it is time consuming to make, but its worth all the effort. If you like me, love to make ada from the scratch then here u go…
Smooth creamy milk tenderly cooked, with rice flakes (adas). makes a beautiful dessert to serve, and it's truly delicious to eat! Do try this and let me know how you like it 🙂 Enjoy!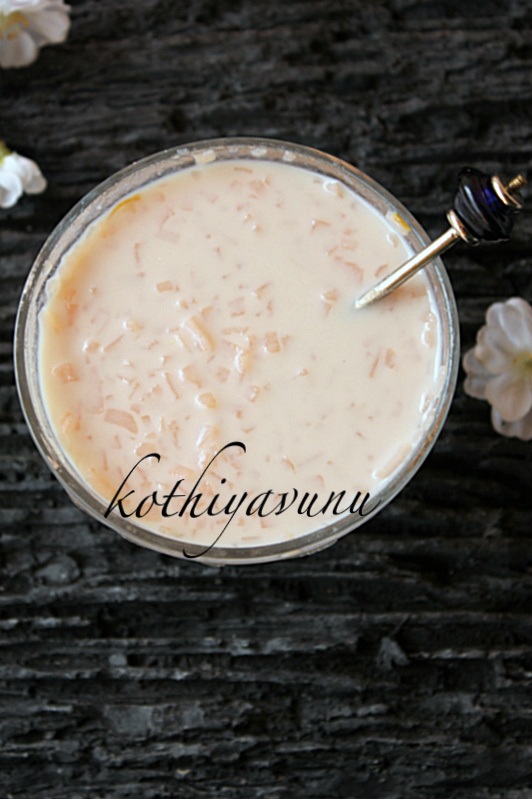 Palada Payasam Recipe -Traditional Method-Version 1 | Cooked Rice Flake with Milk and Sugar
Ingredients:
For Ada:
Rice flour :1cup
Water :1/4cup (may be less or more depending on the rice flour)
Salt : a pinch
Coconut Oil : 2 tbsp
Banana leaves : Fresh or frozen for spreading the dough
For Payasam:
Whole Milk/Thick Milk : 4 cups
Sugar : 2 cups or adjust according to taste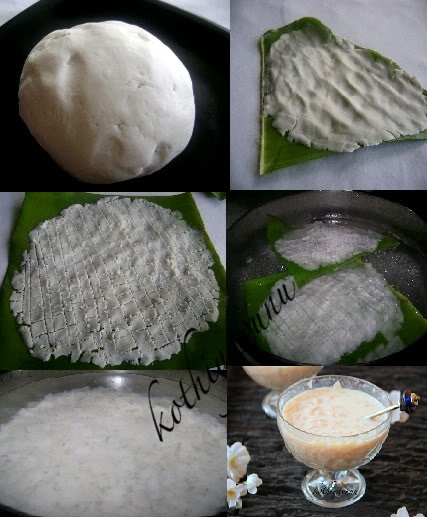 How to make Palada Payasam Recipe – Traditional Method :
1. In a bowl,add the rice flour using water and coconut oil make a soft dough and cover it.
2. Clean and wipe the plantain leaf pieces and spread the oil on the back side of the leaves.
3. Make small balls out of the rice flour dough and spread it as thin as possible.
4. Then start drawing cris cross lines with help of toothpick like grill marks,only smaller cubes.
5. In wide & big pan,add water and allow it to boil, Once it comes to a rolling boil, drop the banana leaves with ada into it and steam the flour batter for 2-3 minutes or till it becomes transparent.
6. Remove from the pan and put it in another container of warm water.
7. Strain it and rinse 3-5 times with cool water thoroughly to remove all the excess stickiness of oil out of it.
8. Meanwhile heat the milk in the wide heavy bottomed vessel or in uruli(Kerala style shallow kadai used for making payasam)boil until it thickens and its color changes to pale pink.
9. Add the 5 times rinsed ada to this milk and continue boiling till everything becomes thick or condensed.
10. Reduce the heat to low and then slowly add the sugar little by little and allow to thicken for 4-6 minutes.
11. Yummy Palada Pradhaman is ready.Serve hot or cold & enjoy!
Notes:
The perfect consistency for the payasam will be that if you draw a line on the ladle it should not join or if drop of payasam is dropped on a surface it would stay there without running watery.
You can also make this payasam with store bought ready made rice ada which is available in all Indian Kerala grocery stores.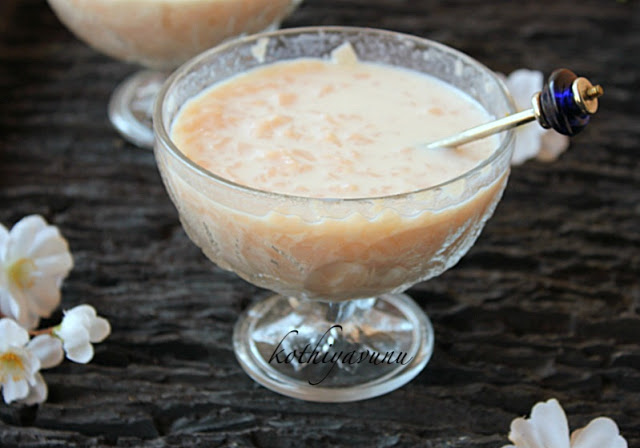 Related Posts :
Palada Payasam/Pradhaman – Easy Version
Chakka Pradhaman /Jackfruit with Coconut Milk & Jagerry
Ada Pradhaman /Cooked Rice Flakes with Coconut Milk & Jagerry
Nenthra Pazham Pradhaman /Banana Payasam
Semiya Payasam /Vermicelli Dessert
Aval Payasam /Poha /Beaten Rice Flakes with Milk
Pal Payasam /Rice Kheer
Happy Cooking