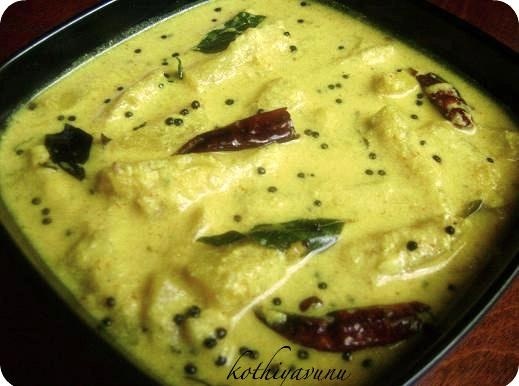 Pineapple /Kaidachakka Pulissery Recipe – Kerala Sadya Style | Pineapple in Yogurt Gravy Recipe
Prepration Time : 10 mins
Cooking Time : 15 mins
Serves : 4


Ingredients :
Semi Ripe Pineapple/ Kaidachakka : 1/2 of one medium size
Turmeric powder : 1/2 tsp
Red Chilly powder : 3/4 tsp
Sugar : 1 tsp (optional)
Curd/Yogurt : 2 cup
Curry leaves : 1 sprig
Salt to taste
To Grind:
Grated coconut : 1 cup
Green chilly : 3 nos
Garlic : 1 pods (optional)
Cumin seeds : 1/2 tsp
Curry leaves : 2-3 leaves
For Seasoning :
Mustard seeds : 1/2 tsp
Fenugreek seeds : 1/4 tsp (You can replace it with fenugreek powder. Sprinkle it when the pulliseri is done.)
Dry red chilly : 3 nos
Curry leaves : few
Coconut Oil : 1 tbsp


How to make Pineapple Pulissery – Kerala Sadya Style | Kaidachakka Pulissery | Pineapple in Yogurt Gravy :
1. Clean and cut the pineapple into 1/2″ pieces.
2. Cook the pineapple pieces along with a little water, turmeric powder, chilli powder and sugar until it turns to soft and tender.
3. Grind grated coconut, green chillies, garlic, cumin seeds, curry leaves to a fine paste adding half of the yogurt and
4. Add this paste to the cooked pineapples, add salt and mix well; allow it to boil on a low heat.
5. Whip the remaining yogurt/curd and add to the curry and mix well; Bring to a boil and cook for a minute.Keep stirring till the gravy is heated through,(don't allow yogurt to curdle)Remove from the heat and keep it aside.
6. In a small frying pan, heat coconut oil and add the mustard seeds. When it start to splutter,add fenugreek seeds,curry leaves and red chilies; Pour this over the prepared pulissery/pineapple-yogurt gravy and mix well.
7. Yummy pineapple pulissery is ready.Serve with rice and enjoy!
Related Posts :
Mambazha Pulissery/Ripe Mango Pulissery
Click here for more Kerala Sadya Vibhavangal.
Happy Cooking!
Sangeetha