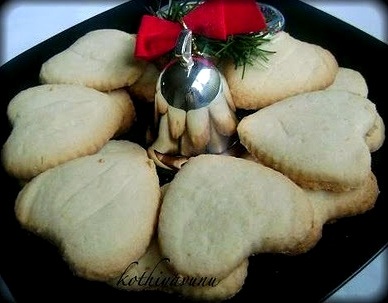 Recipe for Short Bread Butter Cookies


Makes about 20 butter cookies.
Ingredients :
All-Purpose Flour : 2cups /260grms
Salt a pinch
Unsalted Butter : 1cup /230grms (at room temperature)
Confectioners Sugar : 1/2cup /60 grms
Vanilla Extract : 1tsp /5grms
Method of Preparation :
1. In a bowl mix the flour and salt and keep it aside.
2. In another bowl cream the butter until smooth & fluffy for 2-3 minute with electric mixer or with a hand mixer.
3. Add the sugar and beat well for 2-3 minutes now beat in the vanilla extract.
4. Gently fold in the flour mixture just until incorporated.
5. Flatten the dough into a disk shape, wrap in plastic wrap, and refrigerate the dough for at least half hour or until firm.
6. Preheat oven to 350 degrees F (177 degrees C).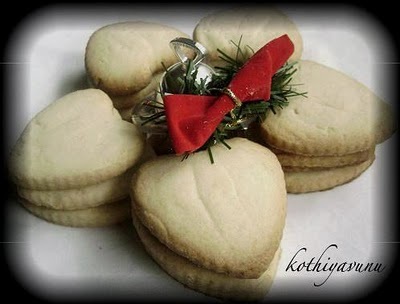 7. Line the baking sheets with parchment paper.
8. Flour the surface lightly; roll out the dough.
9. Cut the dough into desired shapes using cookie cutter.
10. Place the cookies on the prepared baking sheet spacing about 1 inch apart.
11. Place in the refrigerator and chill them again for about 15 minutes.(Note :This will firm up the dough so the cookies will maintain their shape when baked)
12. Bake for 10-15 minutes, or until the edges of the cookies turns to light brown in color.
13. Remove from oven transfer to a rack to cool completely.
Notes :
These cookies freeze very well,store them in air tight container for a couple of weeks.
Recipe Source : Namitha, Collaborative Curry.
Click here for more Cookies recipes
Cheers!
Sangeetha