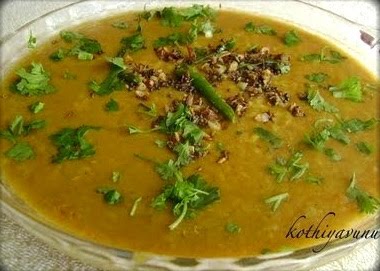 Tadka Dal Recipe | Tadka Dal Fry| Tempered Lentils
Preparation Time: 10 min. + 20 min (for soaking)
Cooking Time: 30 min.
Serves: 4
Ingredients:
Toor Dal /Split Pigeon pPeas : 1/2 Cup
Moong Dal /Yellow Split Moong Beans : 1/2 Cup
Split Masoor Dal /Red Lentils : 1/4 Cup
Onion : 1 (finely chopped)
Tomato : 1 (finely chopped)
Ginger-Garlic Paste : 1 tbsp
Red Chilly Powder : 1/2 tsp
Coriander Powder : 1/2 tsp
Garam Masala Powder : 1/2 tsp
Cumin Powder : 1/2 tsp
Turmeric Powder : 1/2 tsp
Salt to taste
For Tadka/Seasoning :
Mustard Seeds : 1/2 tsp
Cumin Seeds : 1/2 tsp
Garlic : 2 cloves (chopped)
Green Chillies : 2 (slit lengthwise)
Curry Leaves : 4-5 leaves
Ghee/Oil : 2 tbsp
Coriander Leaves/Cilantro for garnishing
Salt to taste

How to make Tadka Dal – Tadka Dal Fry :
1. Wash and soak all dals for half an hour in a water; once they are soaked, drain the water and then pressure cook the dals on medium heat and allow it to whistle 3 times; keep the cooked dals aside.
2. Heat ghee in a pan on medium heat; once the ghee is hot add chopped onions,ginger-garlic paste, curry leaves and saute the onions till they turns to translucent.
3. Add chopped tomatoes, red chilly, turmeric, garam masala, coriander,cumin powders and cook till ghee separates the pan.
4. Add the cooked dal, salt; mix well and cook on a low flame for few minutes.
5. Meanwhile prepare the tempering. Heat ghee in a small skillet on medium heat.
6. Add mustards and cumin seeds, once the seeds starts splutter add chopped garlic, curry leaves, green chillies and cook for a few minutes.Sprinkle the Tadka on the dal.
7. Garnish the dal with chopped coriander leaves. Serve it with Roti, Naan, Paratha or plain rice and Enjoy!.
Check here for more Vegetarian Gravies & Curries
Have a Good Day!
Sangeetha