Thayir Vada /Curd Vadai / Dahi Vada is everybody's favorite at home especially mine and I order it when we visit restaurants.Whenever I make
Uzhunnu vada/Medu vada/Urad dal vada
I reserve the batter to make this thayir vadai.
This rich and creamy dish is prepared by first frying and then soaking the lentil vadas in a flavored yoghurt mixture. It's then topped with some coriander leaves and grated carrot or kara boondi as you wish. It serves best as a starter, appetizer or as a perfect accompaniment to other dishes on a special occasion. I hope you give this a try, and like it too. Enjoy!


Thayir Vada Recipe | Dahi Vada Recipe | Curd Vada South Indian Style
Preparation Time : 4-5 hrs
Cooking Time : 1 hr
Serves : 12-15 depending upon the size of vada
Ingridents :
For Vada:
Whole White Urad Dal /Uzhunnu : 1 cup
Ginger : small piece
Green chilli : 3-4 nos (finely chopped)
Corainder leaves : few (finely chopped)
Curry Leaves : few (finely chopped)
Salt to taste
Oil as required for deep frying
For Yogurt Mixture :
Curd/Yogurt : 3 cups /3/4 liter(appox)
Milk : 1 cup
Salt to taste
To Temper :
Oil : 1 tbsp
Mustard seeds : 1/2 tsp
Asafoetida : A pinchDry Red Chilies : 2 nos (broken into two) (optional)
Cumin seeds : 1/2 tsp
Curry leaves : 1 spring
Salt to taste
For Garnishing:
Chat Masala : 1/4 tsp (optional)
Grated Carrot : little
Corainder Leaves :1 sprig
How to make Thayir Vada Recipe | Dahi Vada Recipe | Curd Vada South Indian Style :


For Yogurt Mixture:
1. Mix yogurt with milk and with 1/8 cup water to make it watery. Mix well to remove all lumps. (Note:The yogurt mixture should not be too thick. It should be slightly thicker than buttermilk)
2. Add salt to taste and mix well and keep it aside.
3. Heat oil in a pan, add mustard seeds,when it starts to splutter; add broken red chilies, cumin seeds,curry leaves and saute for a minute.
4. Add this seasoning to curd mixture; mix well and leave it aside.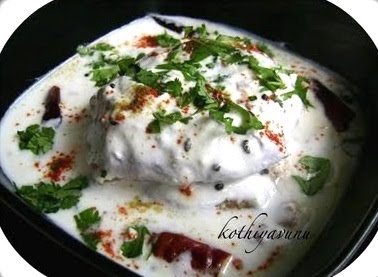 For making Vada :
1. Soak urad dal in water for 4-5 hours and keep it refrigerated for an hour. This helps in giving fluffy stiff batter while we grind in mixie then drain all the water completley.
2. Grind it with ginger, green chillies adding ice cold water little into smooth thick batter. (Notes : Add very very little water because the batter will loosen when we add salt later.
3. Add coriander, curry leaves and salt and mix well. Keep refrigerated until use. Keeping refrigerated also keeps the batter stiff and thick helping to shape the vadai perfect.
4. Now wet your hand lightly and take a small sized ball of batter and make a small circle and a hole in the middle with your finger.
5. Heat the oil in the kadai on medium heat and deep fry till it turns to golden color.
6. Drain the excess oil in paper towels and cool the vada, Soak vada in hot water. (Note : Make sure water is just hot, not boiling water. Adding hot vadai in hot boiling water makes it loose it shape and not looks good. Let it soak for atleast 15 mins
7. Take out the vada and place it on your one hand palm,lightly press on the other hands palm and slightly squeeze off all water from the vada without changing the shape.
8. Pour the curd-yogurt mixture on top of it and let it get soaked.
9. Leave it for at least 1 hrs so that the vadas soak yogurt very well.
10. Sprinkle some chat masala and garnish with grated carrot, coriander leaves or kara boondi as you wish. Serve at room temperature or chilled and enjoy!
Notes :
Never use sour curd-yogurt for making thayir vada.
When you add curd-yogurt to soaked vada, make sure its not too hot.
You can use left over vadais for this.
Soaking urad dal for 4-5hrs makes the vadas absorb less oil.
Check here for more Snacks recipes.
Happy Cooking!
Sangeetha