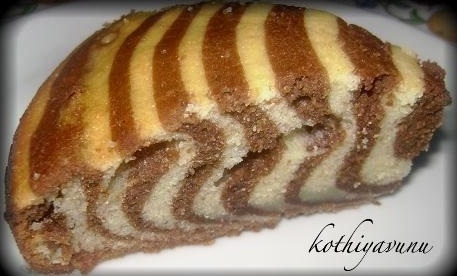 Zebra Cake Recipe
Recipe adapted : Farida AZ Cookbook.


Ingredients:
Eggs : 4 nos (at room temperature)
Granulated sugar : 11/2 cup /280 grms (increase or decrease sugar to ur sweet level)
Milk : 1 cup /250 ml (at room temperature)
Oil : 1 cup /250 ml (i used vegetable)
All-purpose flour : 2 cups /300 grms
Vanilla Powder/Extract : 1 tsp
Baking powder : 1 tbsp or (can substitute with 1 tsp baking soda)
Dark cocoa powder : 2 tbsp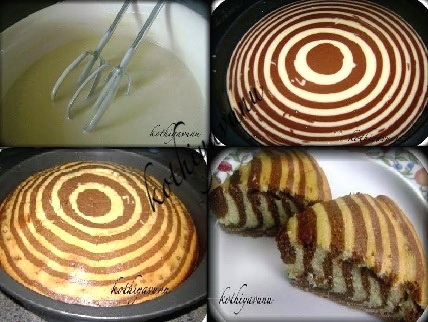 How to make Zebra Cake :
1. Sift all purpose flour,baking powder into a bowl and keep aside.
2. In a large mixing bowl, beat the eggs and sugar using a hand electric mixer until the mixture is pale and creamy.
3. Add the oil, milk and vanilla essence and beat until well blended.
4. Turn down the speed to low and add the sifted flour and baking powder mixture and beat until just incorporated.(Note : Do not over whisk; to prevent air bubbles from forming in the batter.The consistency of the batter should be neither very thick not too loose.)
5. Take out just over 2 cups of the mixture and put it in another bowl.
6. Add the sifted cocoa powder to it and mix until the cocoa is well incorporated.
7. Preheat the oven to 350 f /180 c.
8. Grease the 9 inch baking pan with oil. If you don't have non-stick baking pan, grease whatever pan you have then line it with parchment paper (baking paper).
9. Scoop 3 tbsp of the vanilla batter into the prepared cake pan, followed immediately by 3 tbsp of the chocolate batter right in the centre of the vanilla batter and continue alternating the batters like so until they are finished.(Note: Do not stir, swirl or shake the tin.The batter will spread itself out naturally and as you add more batter the lines will become finer)
10. Place the baking pan in the oven and bake it for about 40 minutes or until a toothpick inserted comes out clean.(Note: Do not open the oven door at least the first 20 minutes or the cake will shrink and will not rise).
11.Remove from the oven. Cool on a wire rack before slicing.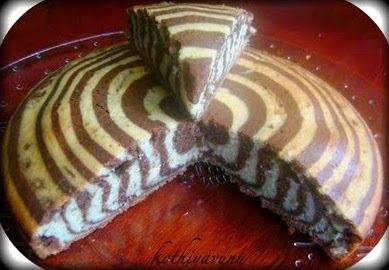 Check here for more Cake recipes.
Happy Baking!
Sangeetha