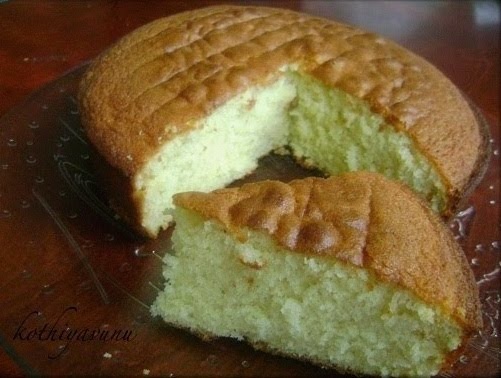 Butter Cake Recipe – Kerala Bakery Style


Ingredients:
All Purpose Flour : 1 3/4 cup /175 grms
Butter : 1 cup /225 grms at room temperature
Sugar : 1 1/4 cup /280 grms
Baking powder : 3 tsp
Salt : 1/2 tsp
Vanilla essence : 1/2 tsp
Eggs : 4 nos at room temperature
Milk : 1/2 cup /118.2 ml (approx)
How to Make a Butter Cake – Bakery Style :
1. Center a rack in the oven and preheat the oven to 350 degrees F/180 degree C and grease 9-inch round baking pan.
2. Take a bowl sift the flour with baking powder.
3. In a large bowl, combine the butter, salt and sugar with a mixer, beat on medium-high speed for 5 minutes until creamy and fluffy.
4. Beat in the eggs one at a time, beating well and scraping the bottom and sides of the bowl after each additions.
5. Add flour,milk and vanilla extract and fold well.
6. Scrape the batter into the buttered pan and smooth the top.
7. Bake for 40-50 minutes or until the top is dark golden brown and a tester inserted in the center comes out clean.
8. Let the cake cool on a wire inside the pan for 5 minutes and then cool on a wire rack.
9. Run a blunt knife between the cake and the sides of the pan and turn the cake out, then turn it right side up on the rack and cool to room temperature.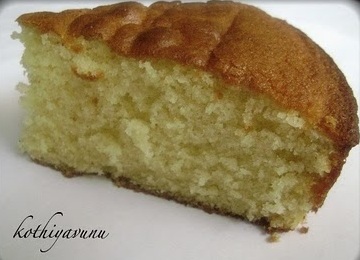 Notes:
Storing : Wrapped well, the cake can kept for 5 to 7 days at room temperature or up to 1 months in the freezer.
For more cakes recipes check here
Now Comes the Award
My Blogger friend Duchess of Rose Tea Cottage has honoured me with this beautiful award. I am very excited and encouraged by this generous gesture from duchess and thank her for all the appreciation and encouragement.
Thanks a bunch Duchess and I really appreciate it.
Cheers!
Sangeetha