1. Clean and wash the green gram/cherupayar/pachai payaru; soak it with sufficient water; keep it for 24 hours.
2. Next day wash once more and drain the water; put it in a casserole close and keep it aside in cool place.
3. Once in 2 hours sprinkle handful of water; toss slightly and close; within 10 to 12 hours sprouted dal will be ready.
4. Keep it in refrigerator and use.
Recipe for Cherupayar Thoran /Mulappicha Cherupayar Thoran /Sprouted Green Gram Stir Fry
Ingredients :
Sprouted green gram/Cherupayar : 2 cups
Onion : 1 (small,chopped)
Garlic : 2 cloves (sliced)
Grated coconut : 1/2 cup
Fennel seeds : 1/2 tsp
Turmeric Powder : 1/4 tsp
Green chilies : 4 nos
Curry leaves
Oil : 1 tbsp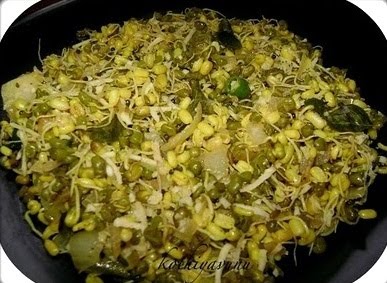 Method of Preparation :

1. Cook sprouted green gram/cherupayar with salt and turmeric powder.(Note : Do not over cook) Sprouts get cooked very fast.
2. Heat oil in pan,splutter mustard seeds,add fennel seeds,curry leaves,chopped onion sliced garlic and green chillies.
3. Add the cooked sprouted green gram and combine well.
4. Add grated coconut and cook till done. Serve with rice or chappathi.
Click here for more Stir fry recipes.
Cheers!
Sangeetha