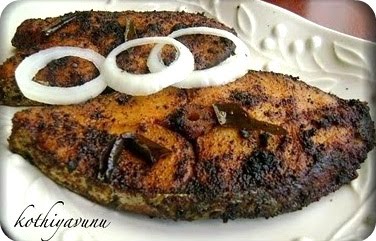 Meen Varuthathu Recipe – Kerala Fish Fry Recipe


Ingredients :
Fish steaks : 5-6 (can use any fish,I used King fish)
Ginger- Garlic paste : 2 tbsp
Red Chilly Powder : 2 tbsp or to your spice level
Turmeric Powder : 1/4 tsp
Black Pepper Powder : 1 tsp
Lemon juice/Vinegar : 1/2 tsp
Coconut Oil/Vegetable oil as required (coconut oil preferred)
Curry leaves : 1 sprig
Salt to taste


How to make Meen Varuthathu – Kerala Fish Fry :
1. Clean and pat dry the cleaned fish using a kitchen tissue.
2. Whole steaks or cut depending on the kind of fish you are using.
3. Make shallow cut marks about 1 inch apart on both sides of large pieces to make sure the marinade seeps through.
4. Make a fine paste of all ingredients using either oil or bit of water.Apply the masala paste on the fish pieces one by one.
5. Keep the marinated fish pieces for 1/2 hour to 1 hour in refrigerator.
6. Pour required coconut oil (it will enhance the authentic taste) and when its hot tilt the tawa/pan in such a way that oil gets spread evenly in the tawa/pan.
7. Shallow fry the fish on medium heat with curry leaves; close it with a lid to avoid any spluttering out due to the moisture content on the fish and the marinade.
8. Flip the fish pieces carefully after 2-3 mins.
9. Pour little bit of oil over all the fish pieces and reduce the flame to low and fry for another 5 minutes.
10. Once crisp,remove from heat. Serve hot with rice and Enjoy!
Notes :
Adding too much oil makes the masala float into it and leaves the fish bland.So just add enough oil to shallow fry.
Any kind of fish can be used for this,either the soft kind like tilapia,catfish etc or the firmer ones like king fish, salmon etc.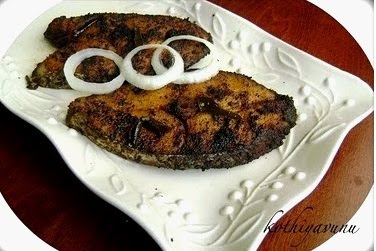 Check here for more Fish recipes.
Happy Cooking!
Sangeetha