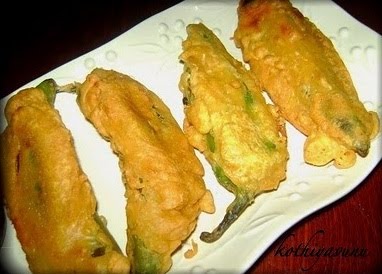 Recipe for Mulaku Bajji /Chilly /Banana Pepper Fritters


Ingredients :
Banana Peppers /Bajji mulaku : 5-8 nos
Besan flour/Chickpeas flour/Kadala mavu : 1cup
Rice flour : 2 tbsp
Turmeric Powder : 1/4 tsp
Kashmiri Chilly Powder : 1/2 tsp
Asafoetida powder/Hing : a pinch
Baking soda : a pinch (optional)
Oil for frying
Salt to taste
Method of Preparation :
1. Mix all the ingredients except banana peppers to a thick batter.(consistency like dosa batter)
2. Make lengthwise slits on the sides of the peppers/chilly without splitting the pepper.(Note : Banana peppers are not very hot; if you don't perfer spicy,remove the seeds without splitting the peppers).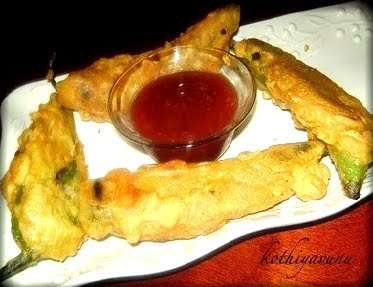 3. Dip each peppers/chilly in the batter to coat well on all sides.
4. Deep fry them in hot oil on medium heat until crisp and cooked.
5. Remove from the oil and drain them in kitchen tissue. Serve hot with tomato sauce or sauce of your choice and Enjoy!
Check here for more Snacks recipes.
Happy Cooking!
Sangeetha