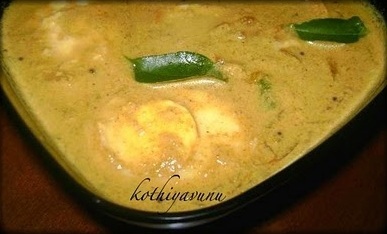 Mutta Thenga Pal Curry Recipe – Egg in Coconut Milk Curry Recipe – Kerala Style Egg Curry in Coconut Milk Recipe
Preparation Time : 10 mins
Cooking Time : 20 mins
Serves : 2-3

Ingredients :
Eggs : 3 nos
Onion : 1 cup (chopped)
Green Chillies : 4-5 (chopped)
Garlic : 4-5 cloves (chopped)
Turmeric Powder : 1/2 tsp
Coriander Powder : 2 tsp
Garam Masala : 1/4 tsp
Thick Coconut Milk : 1 cup
Vinegar : 1/2 tsp
Oil : 1 tbsp
Mustard Seeds : 1/2 tsp
Curry Leaves : 1 sprig
Salt to taste
How to make Mutta Thenga Pal Curry – Egg in Coconut Milk Curry :
1. Boil eggs, remove the shells and cut into halves and keep aside.
2. Heat oil in pan, add mustard seeds,when it pops up, add chopped onions, garlic, green chillies and curry leave and saute it till raw smell goes and onions are translucent.
3. Add all spice powders and saute well; add little water and vinegar, mix well; allow it boil for few minutes till raw smell of spices goes off.
4. Reduce the heat; add salt and halved eggs and cook till the gravy thickens.(Note: Don't break the eggs,stir gently)
5. Remove from fire and add the coconut milk and mix well and keep covered for 10 mins, so that eggs absorbs spices…Serve hot with steamed rice, Appams, Noolappam /String Hopper, Kerala Parotta, Ney Pathiri, Roti, Puttu, or with Indian Bread…Enjoy!
Notes :
If the gravy is too watery,add 1tsp rice flour mixed in 1/4 cup of water. Rice flour act as thickening agent.
How to make coconut milk :
Take a 1 1/2 fresh coconut, grate it finely. In a blender or food processor, add the grated coconut with1 cup of hot water and process for a minute, then squeeze it for milk. This gives you 1cup thick milk.
Return coconut to processor and add 2 cup hot water and process for couple of minutes and squeeze it for milk in separate bowl. This gives you 1cup thin milk.
OR
Buy 1 (400ml) can of thick coconut milk, shake well and pour 1/2 contents in a bowl and mix with 1 cup er (i.e. same quantity of water). Remaining milk in can is thick milk.
OR
Mix 25 g instant coconut milk powder with 200 ml water for thin coconut milk.
Mix 25 g instant coconut milk powder with 100 ml water for thick coconut milk.
For more egg recipe check here
Have a Good Day!
Sangeetha