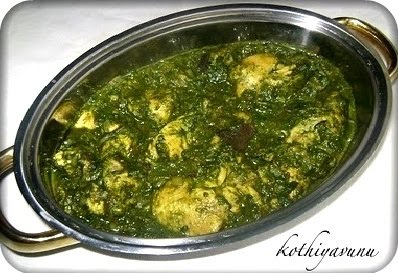 Saagwala Murg Recipe | Spinach-Palak Chicken CurryRecipe |Spinach Chicken Recipe


Ingredients :
Chicken : 1/2 kg/1.1 lb (Cut into medium sized pieces)
Spinach : 1 bunch
Ginger : 1 big piece
Garlic : 4-5 cloves
Green Chillies : 4-6 nos
Yogurt : 1/2 cup
Roasted Cumin Powder : 1 tsp (Dry roast the cumin seeds and powder it)
Bay Leaves : 1
Cinnamon : 1″ stick
Cloves : 4
Green Cardamom : 4 pods
Onion : 2 (finely,chopped)
Tomato : 2 (finely,chopped)
Coriander Powder : 1 tsp
Cooking Oil : 2 tbsp
Nutmeg Powder : 1/2 tsp (optional)
Butter: 1/2 tsp (optional)
Fresh Cream : 1/4 cup (optional)
Salt to taste


How to make Saagwala Murg – Spinach – Palak Chicken Curry :
1. Clean the chicken with pinch of turmeric powder and marinate the cleaned chicken with curds,1/2 tsp roasted cumin powder for 1 hour & keep aside.
2. Cook the spinach leaves (discard hard stems) in boiling salted water for 1 minutes.
3. Drain and refresh in cold water (Note : This is done to retain the color of leaves) and puree them in a blender.
4. Mince green chillies,ginger and garlic together and keep it aside.
5. Heat oil in a heavy-bottomed pan and fry the bay leaves,cardamoms,cloves and cinnamon for a few seconds till aromatic.
6. Add the minced green chilli-ginger-garlic pastes and saute till the raw smell goes.
7. Add the chopped onions and saute until they are lightly browned.
8. Add the coriander powder,1/2 tsp roasted cumin powder and saute well.
9. Add the tomatoes and fry for about 3 minutes, now add the marinated chicken and salt; mix well and cook on low heat for about 5-8 minutes.
10. Add the spinach puree and cook on low heat for about 5-8 minutes or till the chicken is tender.
11. Add the nutmeg powder,fresh cream and butter and mix well.(Note:This step is purely optional,We do this just to make the dish more tasty).Serve with any Indian Breads or rice.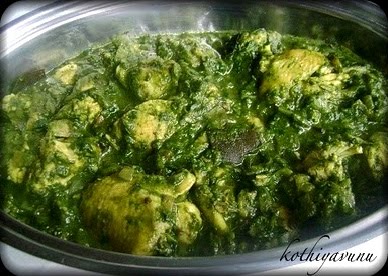 For more chicken recipe check here
Happy Cooking!
Sangeetha