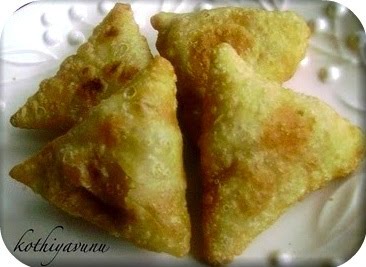 Tuna Samosa Recipe – Tuna Stuffed Savoury Pastries Recipe


Ingredients :
For Samosa Dough:
Unbleached All Purpose flour : 2 cups
Salt : 3/4 tsp
Oil or Ghee : 1 1/2 tbsp
Water : 1/2-3/4 cup
For Tuna Filling :
Tuna : 1 can (drained)
Onion : 1 no (finely chopped)
Green chillies : 2-3 (chopped)
Ginger : 1 tsp (chopped)
Turmeric powder : 1/4 tsp
Red Chilli powder : 1/2 tsp
Garam masala : 1/2 tsp
Fennel seeds : 1/2 tsp
Coriander Leaves : 1 tbsp (chopped)
Curry leaves : few (chopped)
Oil : 1 tbsp
Salt to taste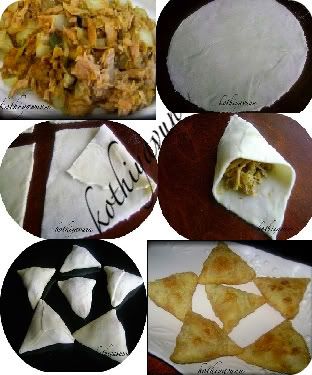 How to make Tuna Samosa – Tuna Stuffed Savoury Pastries :

Preparation for Tuna Filling :
1. Heat oil in a pan, add fennel seeds,chopped onion and cook until slightly translucent.
2. Add chopped green chillies,ginger,curry leaves and all the spice powders and mix well.
3. Add the tuna and salt; saute for a while and cook for 2 minutes.
4. Sprinkle the chopped coriander leaves and mix well; remove from the fire and keep it aside.


Preparation for Samosa :
1. Sift flour and salt together.
2. Make a well in the center of the mixture and quickly pour in oil and water. Stir briskly until combined, gradually adding more water if necessary. Dough should be hard but pliable.
3. On a lightly floured surface, knead dough for 10 minutes until smooth and elastic.
4. Cover with damp towel and keep it aside for 15-20 minutes.
5. Divide into equal sized ball and roll each ball into a circle about 1/10 of an inch thick and 8-9 inches across.
6. Cut the cricle into four quarter. Take one quarter and fold it along the curved edges till two ends meet.
7. Seal by brushing a bit of water along the edges and make a cone.
8. Fill 2 tsp of tuna filling in the samosa cone and seal the other end of the cone with bit of water.
9. Heat 2 inches oil in a skillet or pan when its hot reduce to medium heat.
10. Slide the 4to5 samosas at a time and fry until golden brown on each side.
11. Remove and drain on a paper towel. Serve hot with green chutney or sauce of your choice.
Notes :
You can replace samosa filling with some cooked veggies or any cooked meat.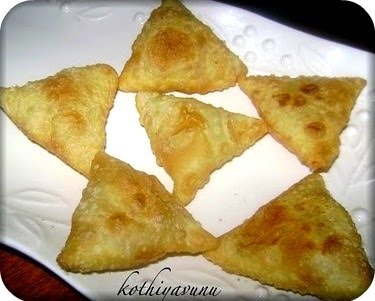 Check here for more Snacks recipes.
Happy Cooking!
Sangeetha