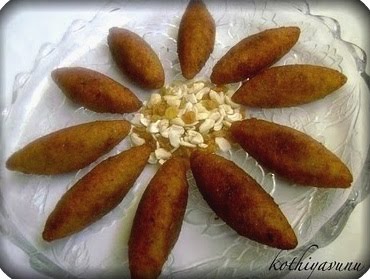 Recipe for Unnakaya /Kaayada/Vayakkada – Malabar Special / Banana Flambe Fritters


Ingredients:
Kerala Banana /Nenthrappazham : 3nos (semi-ripe)
Eggs /Mutta : 2 nos(optional)
Grated Coconut /Thenga Chirakiyathu : 1/2 cup
Sugar : 2 tbsp
Khuskhus/Poppy Seeds : 2 tbsp (optional)
Cardamom powder /Elakapodi : 1/2 tsp
Cashewnuts /Kasuvandiparippu : 1 tbsp(chopped)
Raisins /Unakka munthiri : 1 tbsp
Ghee /Ney : 2 tbsp


Method of Preparation:
1. Cut plantains into 2-3 pieces and stem it; place them in a steamer and steam until banana is well cooked and turns soft or microwave the plantains in microwave safe plate and cook until it is soft.(Note :Do not overcook the plantains)
2. Remove the outer skin and run a knife through the middle and remove the black seeds.
3. Mash it without any lumb or grind into smooth dough without adding any water; consistency like chappathi dough and keep it aside.(Note :In case the consistency is a bit loose, put it in the refrigerator for a while)
4. Beat the egg with sugar and keep it aside.
5. In a pan heat ghee and add cashews,raisins,poppy seeds and saute for a couple of minutes till everything turns golden.
6. Add the grated coconut and saute it for a couple of minutes.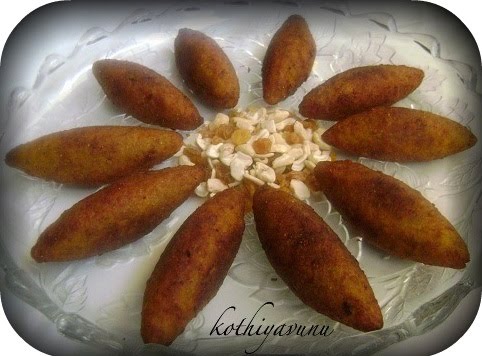 7. Add the beaten eggs and cardmom powder to this and scramble it and mix well. Remove from the fire and let it cool.
8. Grease your hands with a little ghee.
9. Make a lemon size ball out of the banana dough,flatten it on your palm to small disc shapes.
10. Spoon in the 2tsp of scrambled egg filling and close the edges,press lightly and roll it in your hands into the elongated shape of cotton pods/unnakkaya.
11. Heat oil in a frying pan on medium heat and carefully slide the unnakaya into the oil.
12. Keep turning the sides till all the sides become uniformly golden.
13. Drain and serve warm as a tea time snack.

Notes :
Too ripe bananas can create a mess.
If banana dough consistency turns mushy and difficult to manage, you can add a little bit of rice powder.
Check here for more Snacks recipes
Now comes the award
Some of my blogger friends have shared some awards with me..
Collaborative Curry has awarded me with the beautiful blogger awards.I am happy to receive this award from u guys..Thank u nami & sunitha for all the appreciations and encouragements.

I would love to share this awards to all my blogger friends.I request all my lovely friends to feel free to accept it and post it in your blog. Happy blogging!!!
Mausi and Rekha has adwarded me kreativ blogger award with tag and some rules.
Rules of the award:
1.You must thank the person who has given you the award.
2.Copy the logo and place it on your blog.
3.Link to the person who has nominated you for the award.
4.Name 7 things about yourself that people might find interesting.
5.Nominate 7 other Kreativ Bloggers.
6.Post links to the 7 blogs you nominate.
7.Leave a comment in the nominated blogs to let them know they have been nominated.
Thank u Mausi and Rekha for remembering and nominating me..Its very motivating..
I have been tagged before as well, So please view them Here
I would like to share it with
Devi Meyyappan
Muraligeetham
3hungrytummies
Shubha
Vineetha
Swapnasree
Chitchatcross
Once Again I thank everybody for all the appreciations and encouragements…:)
Happy blogging!
Sangeetha