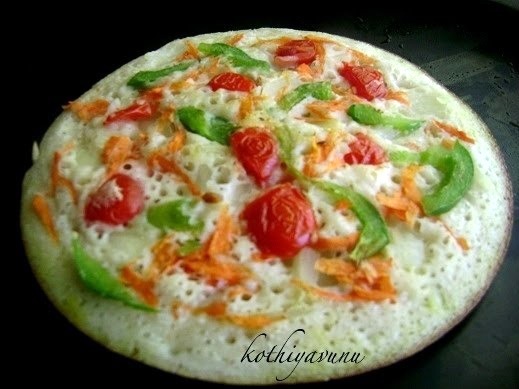 Recipe for Vegetable Uthappam/Savoury Pancakes Topped with Vegetables


Ingredients :
For Uthappam Batter :
Raw rice /Pachari : 2 cups
Urad dal /Uzhunuparippu : 3/4 cup
Cooked Rice : Handful
Fenugreek /Ulva : 1 tsp
Salt to taste
For Vegetable Uthappam :
Red Onion /Shallots /Cheriya ulli : 1 no (medium sized,chopped)
Carrot : 1/4 cup (Grated)
Tomatoes /Thakali : 1/4 cup (chopped)
Capsicum : 1/4 cup (thinly sliced)
Green chillies /Pachamulaku : 2-3 (chopped)
Coriander leaves /Malliella : few (chopped)
Oil
Method of Preparation :
Preparation For Dosa batter :
1. Soak the rice,urad dal and fenugreek for 6 hrs.
2. Grind them to a thick batter along with the cooked rice.(Note : Dosa batter should be fairly thick).
3. Let it ferment overnight or cove it and keep in a warm place for about 8-10 hours.
Preparation for Vegetable Uthappam:
1. Heat an iron girdle/dosa tawa or pan and spread a tsp of oil over it.
2. Pour a ladle full of the batter onto the hot pan and spread it (Note :uthappam should not be crispy nor too thick.It should be about 1/2 inch think).
3. Drizzle a tsp of oil around the uthappam.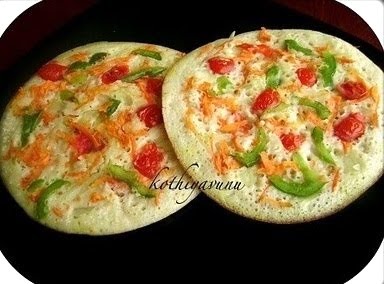 4. Sprinkle the chopped veggies and let it cook.This has to done as soon as the dosa batter is spread and when it is still liquid and not cooked.(Note: That helps the veggies to stick to the batter)
5. Cover it and steam cook for 4-5 mins on low heat.When golden brown, turn and cook for another min or two.
4. Serve with Coconut Chutney or any chutney of ur choice.
For More dosa recipes check here
Now Comes the Award
My blogger friends Dolly and Kitchen Queen have shared some awards with me….thank u very much Dolly and Kitchen queen for thinking of me and passing to me.:) I am happy to receive this from u guys..:)
From Dolly
From Kitchen Queen
I would love to share this awards to all my blogger friends because I love every one's blog.I request all my lovely friends to feel free to accept it and post it and share it with your friends.Happy blogging!
Cheers!
Sangeetha