Makes :6 Servings
For Caramel
Sugar :1/2 cup
Warm Water :1 tbsp
Lemon juice :1 tsp or 1/4 lemon (freshly squeezed)
For Custard
Eggs :3 nos (large size)
Sugar :1/3 cup
Milk :2 cup
Vanilla Extract :2 tsp
Salt :a pinch
How to make Caramel Custard Recipe – Flan Recipe
How to make Caramel :
You can prepare the caramel either in microwave or in stove top.I used microwave method.
1. Mix all the carmel ingredients in a glass or pyrex container of average size.
2. Cook in a microwave oven at maximum power for 5 mins or until the syrup starts boiling. (Note: The precise cooking time depends on your oven's power).
3. Continue to cook using 10 second periods the syrup is ready when it turns golden-brown (or) If its in stove top then pour the sugar, and lime juice into a sauce pan, one with a light metal, so you can see your sugar caramelizing. Add warm water and bring to a boil over high heat. Do not stir. Swirl the pan occasionally to heat evenly.Once it turns bubbling brown and golden, turn off the heat.
4. Preheat the oven to 175°C/350°F.
5. Pour about a tablespoon's worth into each of your reserved ramekins. You have about 30 seconds after pouring to swirl and coat the bottom of the cup before it cools and hardens. (Note: The caramel may not initially cover bottoms and sides completely, but it will spread and even out after the hot cream mixture is poured in)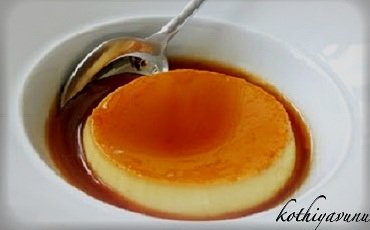 How to make Custard :
1. In a large bowl, beat the eggs lightly with a fork. Add sugar and pinch of salt, then mix well.
2. Warm up the milk in a saucepan until hot but not boiling and pour it slowly into the egg mixture.
3. Stir constantly but lightly, in order not to create too many air bubbles.
4. Add the vanilla, then portion out into the caramel-covered ramekins.
5. Put a towel or piece of cloth into a large baking-pan (either a rectangular cake-mould or a roasting pan).
6. Place the ramekins on the cloth and fill the pan with enough hot water to reach halfway up the sides of the ramekins.
7. Cover tightly with foil, and carefully transfer to the oven. (Note: By doing this water in the pan won't slosh into the ramekins).
8. Bake in the middle of the oven 35-40 min; The custards tend to bake at varying speeds. To decide if they're done, tap each cup. If the centers jiggle like jell-o, they're done. They will firm up considerably more when chilled.
9. If the centers still look liquidy, keep baking for 5 minute intervals, check again with a toothpick or knife to see if it is cooked through.
10. Take the ramekins out of the water bath right away to avoid overcooking.
11. Cool on rack, then refrigerate for at least 4 hours, uncovered to prevent condensation. After 4 hours, wrap the cups in plastic so they don't form skins and refrigerate for few more hours.
12. Run a thin knife around the edges to help remove the custards, then turn upside-down onto serving plates. Serve cold and Enjoy!