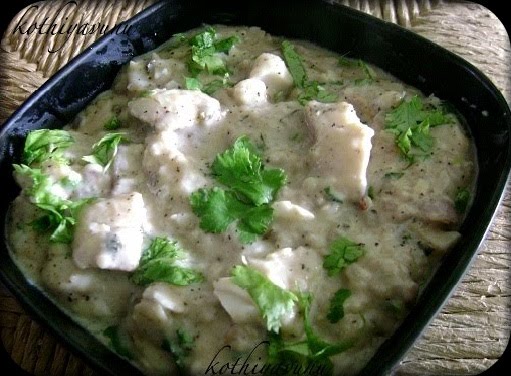 Recipe for Fish Orly /Fish in White Sauce


Ingredients :
White Fish : 1/2kg (Any kind of white fish can be used)
Garlic : 2 tbsp (finely chopped)
Shallots/Small Onion : 8-10 nos (chopped)
Black Pepper Powder : 2 tsp
Oregano : 1 tsp
Dried Mint Leaves : 1 tsp
Parsley or Coriander leaves : 2 tbsp (chopped)
Cheese : 1 tsp
For White Sauce :
Butter : 1 tbsp
Milk :1 cup
Flour/Maida :1/4 cup
Oil : 2 tbsp
Salt to taste
Method of Preparation :
1. Remove all skin and bones from the fish and cut them in small cube pieces.
2. Marinate the fish with 1tsp black pepper powder,1tbsp chopped garlic,salt,oregano,dried mint leaves and 2 tsp oil; mix well and keep it aside for 20-30 minutes.
3. In non-stick pan heat oil and add 1 tbsp chopped garlic,chopped shallots and saute till it turns to translucent.
4. Add the marinated fish pieces and grill the fish until cooked.
5. In another pan,melt the butter over medium heat.
6. Stir the flour into it, until smooth and thick, continue stirring.
7. Add a small amount of milk. When the mixture boils, add more milk and mix thoroughly, continue until all the milk is used up.
8. When the sauce is ready, add the grilled fish,salt to taste and mix gently.
9. Add 1 tsp of black pepper powder,mix and remove from the fire.
10. Add the cheese and chopped parsley or coriander leaves. Serve hot and enjoy!
Check here for more Fish recipes.
Have a good day!
Sangeetha
Now Comes the Awards
Some of my blogger friends have shared some awards with me..:)
Fathima,Preeti Vijay,Padma,Aprana,Vineetha,Sarah,Swapnasree
has awarded me some awards.I am happy to receive this award from u guys.Thank u all my friends for all the appreciations and encouragements.
From Fathima,Preeti Vijay,Padma,Swapnasree

From Swapnasree

Once Again I thank everybody for all the appreciations and encouragements.I really appreciate it…:)
I would love to share these awards to all my blogger friends because I love reading every one's blog.I request all my lovely friends to feel free to accept it and post it in your blog. Happy blogging!!!