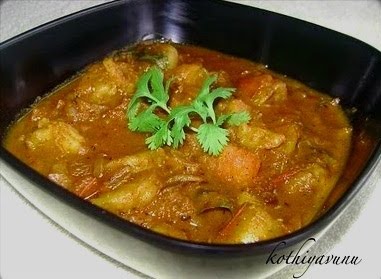 Recipe for Fried Potato Curry

Ingredients :
Potatoes : 2 nos (washed & cubed)
Onion : 2 (finely chopped)
Tomato : 2 (finely chopped)
Cashew : 4 tbsp /50 grms
Turmeric Powder : 1/2 tsp
Red Chilli powder : 2 tsp
Coconut milk : 2 cup
Green chilliies : 4 nos (slit lengthwise)
Cumin Seeds/Jeera : 1/2 tsp
Coriander leaves : few (chopped)
Oil : frying for potatoes + 1 tbsp
Salt to taste
Method of Preparation :
1. Soak the cashews and make a paste with 1/2 cup of water and keep it aside.
2. Peel the potatoes; chop them into small cubes and marinate the chopped potato cubes with 1/4tsp of turmeric powder,salt and set it aside for 10-20 minutes.
3. Heat oil in the frying pan and fry the marinated potato pieces till golden brown; remove and keep aside.
4. In a kadai add 1 tbsp oil; once it is hot,splutter cumin seeds.
5. Add finely chopped onion, and saute till it turns to translucent.
6. Add green chillies,turmeric powder,chilli powder,and saute for couple of minute.
7. Add finely chopped tomatoes cook well until it turns to mushy and soft.
8. Add coconut milk (Note : No need of very thick milk) and salt.
9. Allow to boil and add the fried potatoes then add cashew paste once it comes to a boil,remove from the fire and add chopped coriander leaves and mix well.
10. Serve with Appam, Dosa or Indian Bread and Enjoy!
Check here for more Vegetarian Gravies and Curries.
Cheers!
Sangeetha