This very colourful pulao recipe, or mixed rice from Kashmir, North Indian. This is a Kashmiri rice dish and is made with various nuts,fruits, assorted spices.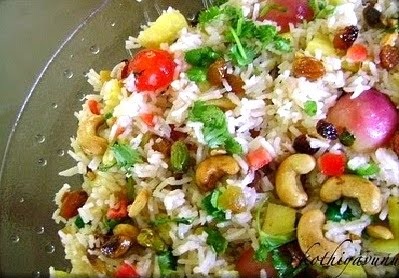 This dish is different from the normal pulao's as it is not spicy. On the other hand, it is slightly sweet in taste.There are many versions of this pulao. What stands out in Kashmiri Pulao is safforn and fennel seeds. Usually whole garam masala spices are used as it is, if you don't prefer then you can avoid it. I personally prefer using it, because it gives you nice flavour to rice.
This colorful pulav/pulao is served on special occasions like birthdays, weddings and so on.It's a great recipe to prepare and eat together as a family. It's also extremely kid-friendly. This dish can be best eaten with paneer-based gravies.
So pulao lover come lets learn how to prepare this delicious recipe! Enjoy!
Ingredients :
Basmati Rice : 2 cups
Safforn Strands : 1/2 tsp
Warm Milk : 1 tbsp
Cloves : 3 nos
Cinnamon : 1 inch stick
Cardamom : 4 pods
Bay leaf : 1
Black Cumin /Shahi Jeera /Karinjeerakam : 1/4 tsp
Pineapple : 1 cup (chopped into small cubes)
Cherries : 1 cup
Grapes (seedless) : 1/2 cup
Orange Juice : 1/2 cup
Tutty Fruity : 1 cup (optional)
Black Pepper Powder : 1 tsp
Pinenut : 2 tbsp
Cashews : 2 tbsp
Raisins /Unakka Munthiri : 2 tbsp
Coriander Leaves : 1/2 bunch (chopped)
Ghee
or Butter /
Ney
or Venna : 4 tbsp
Salt to taste
How to make Kashmiri Pulao – Pulav :
1. Wash and soak basmathi rice in water for 1/2 hour and cook the rice with salt till the grains are well done yet separate. Turn off the heat and set aside.
2. Soak the saffron in a tbsp of warm milk.
3. In heavy bottomed pan pour the
ghee
, add all whole gram masalas (cloves,cinnamon,cardamom,bayleaves,shahi jeera) and saute for minute.
4. Add pine-nut,cashews,and raisins (
Note :
Keep few for garnishing) and saute for couple of minutes now add the chopped pineapple,black pepper powder,salt to taste,tutty fruity,and cherries; combine well.
5. Add orange juice and mix well and allow to boil.
6. Add the cooked rice, half of the chopped coriander leaves and gently mix.
7. Cover and cook for 1-2 mins on low flame and remove from the fire and fluff it with fork and add the saffron milk mixture.Keep it covered for the flavors to blend.
8. Garnish with fried nuts and chopped coriander leaves. Serve hot and Enjoy!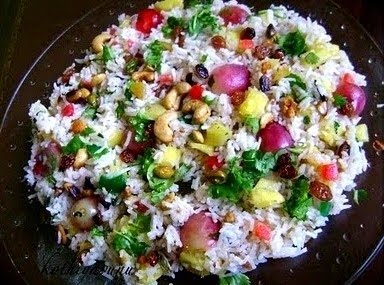 Notes :
Do not reheat after adding fruits.
If you want to make it very rich you can add cream instead of orange juice while cooking.Just replace 1/2 cup of cream for 1/2 cup of orange juice.Keep in mind, do not add too much of cream, it will be very heavy.
Click here for more Rice recipes.
Cheers!
Sangeetha