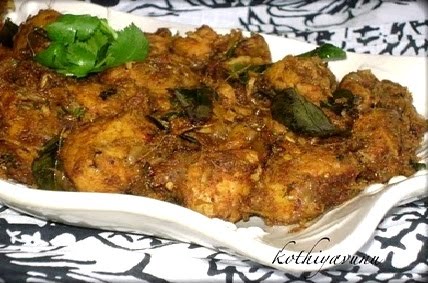 Chicken Ularthiyathu Recipe – Sauteed Chicken Fry Recipe


Ingredients:
For Marinating Chicken :
Chicken : 1.1 lb/1/2 kg (washed & cut into small pieces)
Turmeric powder : 1/4 tsp
Coriander Seeds : 1 1/2 Tbsp (lightly roasted & powdered)
Red Chilli powder :1 tbs ( lightly roasted)
Black Pepper Powder : 1/2 tsp (freshly ground)
Salt to taste
For Sauteing :
Onion : 2 cups or 1 no (big, finely sliced)
Tomato : 1 no (medium, finely chopped)
Garlic : 1/4 cup or 6-8 cloves (grated)
Ginger : 1/4 cup or 2″ inch medium pieces (minced)
Sliced coconut : 3 tbsp
Dried Red Chilli : 2 nos, chopped
Curry leaves : 2 sprig
Coriander leaves : few (finely chopped)
Coconut oil : 3-4 tbsp
Water : 1/4 cup
For Spice Powder (Dry roast and grind):
Fennel seeds : 1 tsp
Pepper corns : 1/4 tsp
Cardamoms : 2 nos
Cinnamon sticks : 2 small pieces
Cloves : 2 nos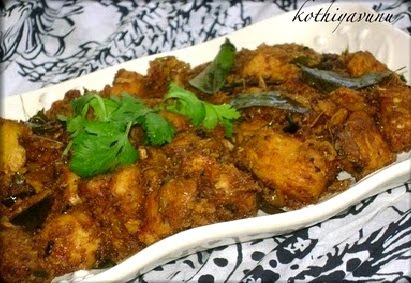 How to make Chicken Ularthiyathu -Chicken Olarthiyathu :
1. Marinate with lightly roasted and grounded coriander powder, lightly roasted chilli powder,turmeric powder,black pepper powder and salt for 30 minutes and keep it aside.
2. In a pressure cooker,add this marinated chicken with 1/4 cup of water and cook for 1-2 whistle or till its done.
3. In another pan, heat oil; add sliced onions,sliced garlic,minced ginger,curry leaves,chopped dried red chilli and sliced coconut and sauté until onions turns to translucent.
4. Add cooked chicken along with the gravy and sauté until it turns to thick.
5. Add the chopped tomato and ground spice powder and sauté until it turns to dark brown colour and dry.(Note : If it becomes too dry, just sprinkle some water).
6. Add chopped coriander leaves,curry leaves and stir well.
7. Close and cook for a couple of minutes; remove from the fire and garnish with coriander leaves,let it rest for 10-15 minutes before serving.
8. Serve as a side dish for rice or with Indian bread.
Click here for more Chicken recipes.
Happy Cooking!
Sangeetha