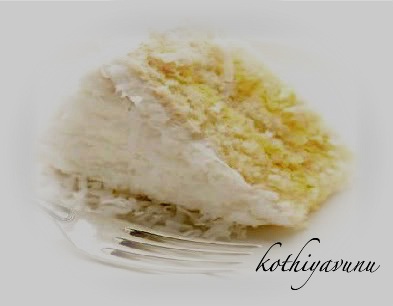 Coconut Cake Recipe
(Recipe Source : Ina Garten)


Ingredients :
All-Purpose Flour/Cake Flour : 3 cups plus more for dusting the pans
Baking Powder : 1 tsp
Baking Soda :1/2 tsp
Salt : 1/2 tsp
Vanilla Extract : 1 1/2 tsp
Almond Extract : 1 1/2 tsp
Whole Milk : 1 cup
Butter : 1 1/2 cup/3 sticks(softened)plus more for greasing the pans
Sugar : 2 cups
Eggs : 5 large (at room temperature)
Sweetened Shredded Coconut : 1 cup
For Cream Cheese Frosting :
Cream Cheese : 2 cup (at room temperature)
Unsalted Butter : 1 cup/2 sticks (at room temperature)
Vanilla Extract : 3/4 tsp
Almond Extract : 1/4 tsp
Confectioners' Sugar : 1 cup (sifted)
Sweetened Shredded Coconut : 3/4 cup


How to make Coconut Cake :


To make Cake :
1. Heat the oven to 350°F/ 180°C.
2. Grease 2 (9-inch) round cake pans, then line them parchment paper. Grease them again and dust lightly with flour.
3. In a medium bowl cream the butter and sugar with electric mixer on medium-high speed for 3 to 5 minutes, until light yellow and fluffy.
4. Crack the eggs into a small bowl. With the mixer on medium speed, add the eggs 1 at a time, scraping down the bowl once during mixing.
5. Add the vanilla and almond extracts and mix well.(Note :The mixture might look curdled; don't be concerned).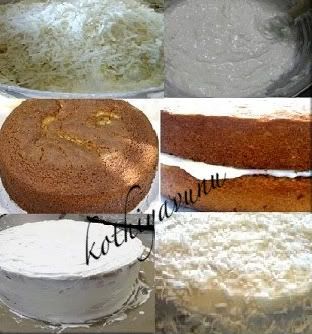 6. In a separate bowl, sift together the flour, baking powder, baking soda and salt. With the mixer on low speed,
7. Alternately add the dry ingredients and the milk to the batter in 3 parts, beginning and ending with dry ingredients. Mix until just combined.
8. Fold in the shredded coconut with a rubber spatula.
9. Pour the batter evenly into the 2 pans and smooth the top with a knife.
10. Bake in the center of the oven for 45 to 55 minutes, until the tops are browned and a cake tester comes out clean.
11. Cool on a baking rack for 30 minutes, then turn the cakes out onto a baking rack to finish cooling.


To Make Cream Cheese Frosting :
1. In the bowl combine the cream cheese, butter, vanilla and almond extract with the electric mixex on low speed.
2. Add the confectioners' sugar and mix until just smooth (don't whip!)
Assembling the Cake :
1. Place one cake layer, top side down, on a cake stand or serving plate.
2. Cover it generously with icing and sprinkle with coconut.
3. Place the second layer on top of the iced layer, top side up. First ice the sides to help keep the cake steady, and then spread icing generously over the top, completely covering the cake.(Note : Place the cake stand or serving plate on a cooking sheet to catch any loose coconut as you shower the cake).
4. Sprinkle coconut all over the cake, and then gently pat handfuls of coconut onto the sides and top to cover any bare spots.
5. Serve at room temperature and Enjoy!!!
Click here for more Cakes recipes
Have a Good Day!
Sangeetha