A simple recipe with Papaya…Quick to make and delicious to have…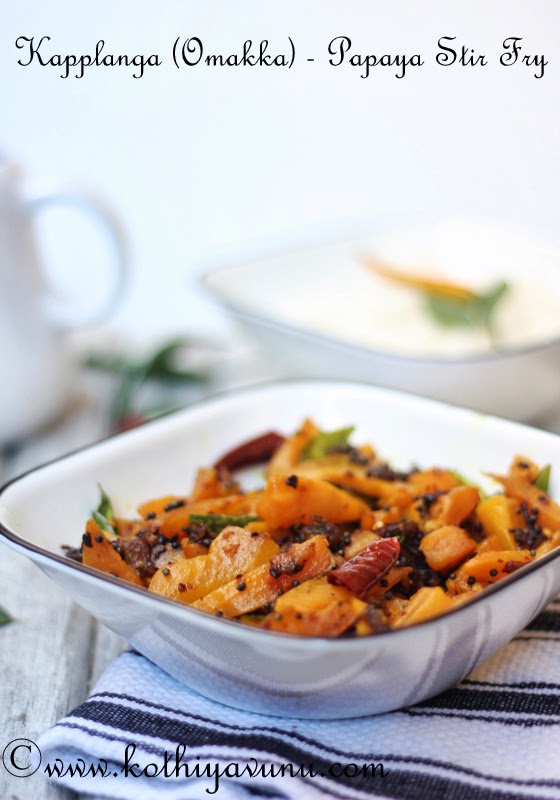 Kapplanga (Omakka)Ularthu Recipe – Papaya Stir Fry Recipe
Prepration time : 10 mins
Cooking time : 10 mins
Serves : 4

Ingredients :
Kapplanga/Semi ripe Papaya or Green Unripe Papaya : 2 cup (deskinned,cleaned and cut 1″ long pieces)
Shallots/Small Red Onions : 5-6 (crushed)
Garlic : 2-3 cloves (crushed)
Green chillies : 2-3 (half slit)
Turmeric powder : 1/4 tsp
Crushed Red chilly flakes/Red chilly powder : 1/2 tsp
Mustard seeds : 1/2 tsp
Dried Red Chilly : 2 (broken into 2)
Curry leaves : a sprig
Coconut oil : 1 tbsp
Salt to taste


How to Make Kappalanga (Omakka) Ularthu – Papaya Stir fry :
1. In pan, add papaya pieces, turmeric powder, salt with 1/4 cup of water; Close & cook for 3-5 minutes till the water is absorbed and the pieces are half cooked.(Note : Here i have used semi ripe papaya,You can also prepare with green unripe papaya).
2. Heat oil in a pan and add mustard seeds,when it starts to splutter, add crushed shallots,garlic,green chillies,crushed red chilly flakes and saute till the aroma spreads around.
3. Add broken red chillies and curry leaves, followed by the half cooked papaya pieces.
4. Reduce the flame to medium and gently toss the pieces allowing the oil to coat all over and the pieces.Let the papaya get roasted for 5-8 minutes,adjust the salt. (Note : Do not let it get fried for long)
5. Remove from the fire and serve hot with rice and curry.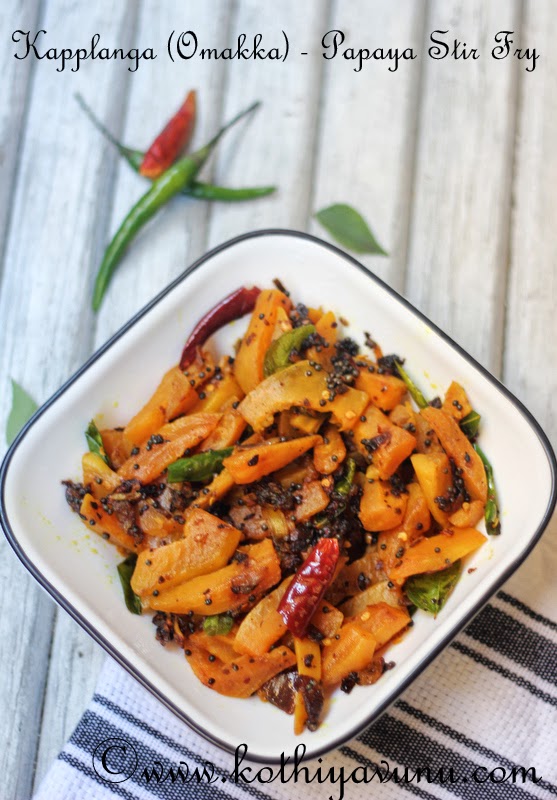 Check here for more Stir Fry recipes.
Good Day All!
Sangeetha