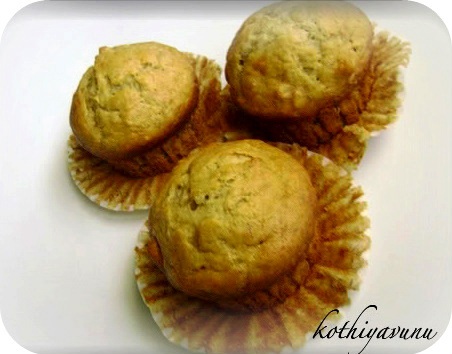 Makes : 12 Muffins
Ingredients :


All-Purpose flour : 2 cups
Baking powder : 4 tsp
Salt : 1/2 tsp
Sugar :1 cup or Honey : 3/4 cup (i have used honey)
Mango Pulp : 1-1 1/2 cup or Ripe Mangoes :2 (finely chopped)
Vegetable oil : 1/4 cup
Milk : 1 cup
Egg : 1 (large)
Almond extract : 1 tsp
Method of Preparation :


1. Combine all purpose flour, baking powder, salt and sugar in a large bowl.
2. In a separate bowl combine oil, milk,almond extract and egg;whisk until smooth.
3. Mix milk mixture ingredients with flour mixture until just moist.
4. Stir in the mango pulp or chopped mango pieces.
5. Grease the muffins tins and divide the batter evenly among the prepared muffin cups or paper muffin cups two-thirds full.
6. Bake at 400 degree F for 20-25 minutes or until they are brown on top and a tooth-pick inserted into the center comes out clean.
7. Remove the mango muffins from the cups and place on a wire rack to cool slightly and Enjoy!
Click here for more Muffins recipes.
Happy Baking!
Sangeetha