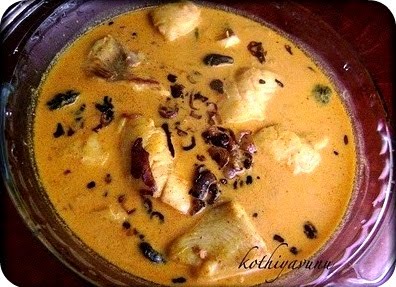 Recipe for Meen Thengapal Curry / Fish Coconut Milk Curry


Ingredients :
Fish : 1/2 kg (sliced) (Any big fishes like Arkkya/King Fish,Pomfret/Aavoli,Aiykoora/Ney meen,Makceral/Ayala)
Thick Coconut Milk : 2 cups
Water : 1/2 cup
Ginger : 1″ Piece (chopped)
Green Chillies : 3 nos (split length wise)
Shallots/Small onions : 4-5 nos
Fish Tamarind /Kudampuli) : 3to4 pieces(according to ur taste)
Turmeric Powder : 3/4 tsp
Red Chilly Powder : 2 tsp
Curry Leaves : 2 sprig
Coconut Oil : 1 tbsp
Salt to taste
To Temper:
Coconut oil : 1 tsp
Small onions : 4-5 (sliced)
Curry leaves : few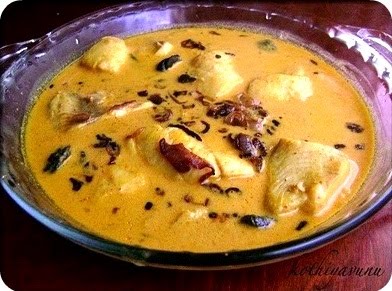 Method of Preparation :
1. Clean and wash the fish and drain off the excess water.
2. Wash the Kudampuli/Fish tamarind and cut them into small pieces and soak in 1/4 cup of water.
3. Crush ginger and small onion together.
4. Heat a pan (preferably in 'Kalchatti' an earthen pot) on low flame.
5. Pour the coconut milk into the pan and add crushed ginger,small onions,red chilly powder,turmeric powder,salt,curry leaves,water and kudampuli/fish tamarind and allow it to boil.
6. Add the cleaned fish and cook till it is half done.(Note :When it start boiling; stir occasionally for not curdling the coconut milk)
7. When fish is half cooked,add slit green chilly and curry leaves and cook till the gravy becomes thick.(Note : Gravy should be neither too thick or nor too thin) when its done keep the lid closed and remove from the fire.
8. Temper with fried shallots and curry leaves. Serve with hot steamed rice and Enjoy!
Check here for more Fish recipes.
Have a Good Day!
Sangeetha