I am Back!!! Sorry about the break, my humble apologies to all my dear readers & all my friends here for my long absence and for lack of updates..I realize I have taken a long break, Well big thanks to one n all of you knocked my doors to see what happened, life has been busy n still it with each day a run, not getting enough time to sit and blog but now I am back and in full force..:)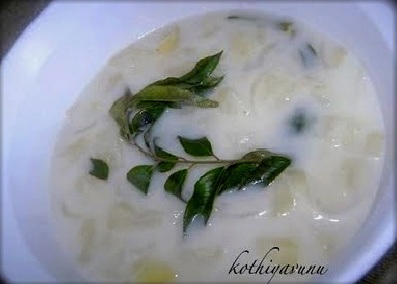 Ishtu Recipe – Potato Stew Recipe – Kerala Style | Potato With Coconut Milk
Preparation Time : 10 mins
Cooking time : 20 mins
Serves : 4
Ingredients :
Potatoes : 3 medium, (peeled and cubed)
Onion : 1 medium, (thinly sliced)
Green chillies : 4-5 (slit open lengthwise)
Ginger : 11/2″ piece (finely chopped)
Thin Coconut milk – 2nd extract /Randampaal : 11//2 cup
Thick Coconut milk -1st extract /Onnampaal: 1/2 cup
Coconut oil : 2 tsp
Pepper powder : 1 tsp (optional)
Curry leaves : 1 sprig
How to make Potato stew – Ishtu Recipe Potato with Coconut Milk – Kerala Style:
1. In a pressure cooker heat 2 tsp of oil, add the thinly sliced onions.slit green chillies and chopped ginger and sauté until the onions gets transparent. (Note : Don't allow the onions to change color.)
2. Now add the cubed potatoes with 1/2 cup of water and salt.
3. Pressure cook for 1 whistles, once the potatoes are cooked, mash some of the potatoes to get a thick gravy.
4. Add thin coconut milk and let it cook on low heat for 10 mins.
5. Now add the thick coconut milk and bring to boil and reduce the heat to low and cook uncovered till it reaches thick and creamy.
6. Add the curry leaves, drizzle coconut oil and remove from the fire.Cover and let it rest for 5 minutes, this allows the aroma and the flavor to seep in.
Notes:
You can make stew using a combination of veggies like potatoes,carrot,green peas and so on.

Happy Cooking!
Sangeetha