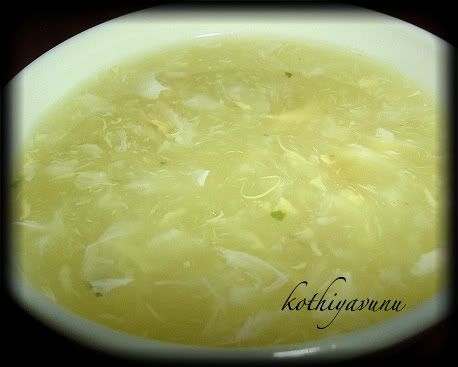 Sweet Corn Chicken Soup Recipe


Ingredients :
Sweet Corn or Fresh corn kernels : 1 cup (steamed till tender and them removed from the cob)
Chicken Stock : 500 ml
Corn Flour : 2 tbsp
Boneless Chicken : 1 cup
Black Pepper Powder : 1/2 tsp
Egg : 1 no
Milk : 1/4 cup
Spring Onion: 1 tsp (chopped)
Salt to taste
How to make Sweet Corn Chicken Soup:
1. Put the sweet corn in a dish and add the chicken stock into it.
2. Mix the corn flour with 1/4 cup of water.
3. Keep the chicken stock in the fire and when it begins to boil, add the corn flour into it. Boil it for 8-10 minutes.
4. Add the sliced chicken pieces and salt into the chicken stock, also
5. Add the milk, chopped coriander leaves and sauces to it and allow to boil.
6. Beat the egg and add it slowly to the boiling soup. Stir the soup continuously while adding the egg. Remove from fire, add pepper powder.
7. Granish with little black pepper, salt and chopped green onion . Serve hot and Enjoy!
For more Soups recipes click here
Cheers!
Sangeetha