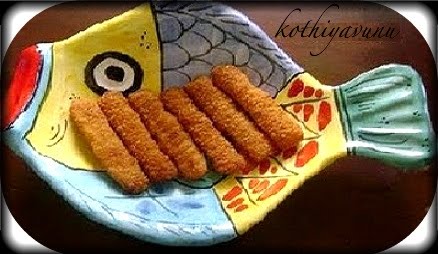 Ingredients :
Boneless Fish : 250 grm ((Tilapia preferred)
White Pepper powder :1 tsp
Vinegar :1tbsp
Egg white :1 no
Breadcrumbs :1 cup
Corn flour :1-2 tbsp
Oil for deep frying
Ginger – Garlic paste : 2 tsp(optional)
Soya Sauce : 1 tbsp
Red Chilli Sauce : 1 tbsp
Salt for taste
Method of Preparation:
1. Clean and cut fish to finger size, after peeling skin and removing bones.
2. Marinate the fish with white pepper powder,vinegar,ginger garlic paste, soya sauce red chilli sauce and salt for 2-3 hrs.
3. Mix the breadcrumbs with the corn flour.
4. Beat the egg white finely and keep it aside.
5. Dip each fish piece in egg white & roll in breadcrumbs mix.
6. Heat oil in the pan and deep fry the fish till golden brown.
7. Serve with ketchups & enjoy!!!
Click here for more Fish Recipes
Cheers!
Sangeetha