Guacamole /Avocado dip is Mexican dip dish. It tastes awesome and its so rich and creamy. Avocados are a popular main ingredient in appetizer dips. Each serving of creamy, delicious avocado offers nearly 20 vitamins, minerals and phytonutrients.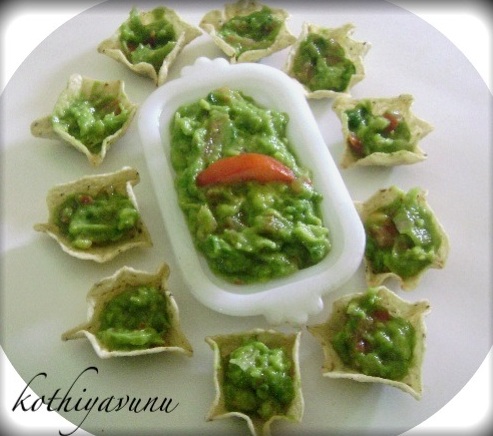 Guacamole Dip Recipe – Avocado Dip Recipe



Ingredients :
Ripe Avocados : 2 (To determine if an avocado is ripe, give it a little squeeze. If it is soft it is ripe. If it is hard put it back. Stay away from avocados that are too soft as they may already have roots sprouting inside them)
Garlic : 2 cloves (crushed)
Tomatoes :1 medium (diced)
Small Red onion /Shallots :1 (finely chopped)
Lemon juice :1 tsp
Jalapeno pepper :1 no
Dash of salt to taste
How to make Guacamole Dip – Avocado Dip Recipe


1. Cut the avocados in half and remove the pits. Mash the avocados with a fork.
2. Add chopped onions, crushed garlic,jalapeno pepper and chopped tomatoes in a bowl and mix the mashed avocado into it. If you don't want it that spicy, cut it in half lengthwise and remove the seeds in the jalapeno pepper first.
3. Mix everything together, sprinkling in the salt halfway and add the lime juice to prevent oxidization and browning.
4. Enjoy this dip with tortillas.
Notes :
Since avocado doesn't store well, it's best to make only as much as you're going to eat but if you do need to save it, squeeze some more lemon over the surface and wrap as tightly as you can with plastic wrap and keep in the fridge.
Check here for more Dips recipes.
Cheers!
Sangeetha