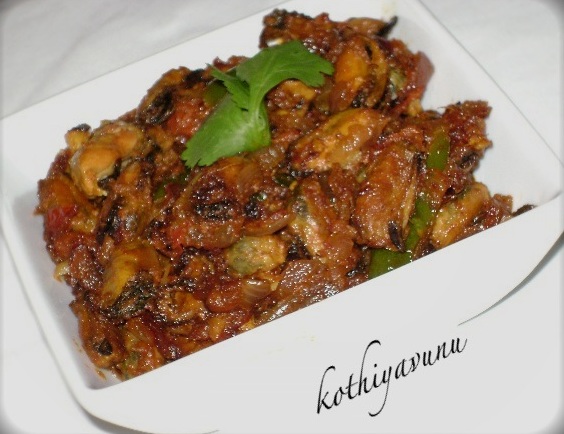 Kallumayakaya – Kadukka Varattiyathu -Mussels Fry- Kerala Style
Preparation Time : 20 mins
Cooking time : 30 mins
Serves : 4-6
Ingredients :
Fresh Mussel /Kallumayakaya /Kadukka : 1 kg /2.2 lb
Onion /Savola : 3 medium (thinly chopped)
Tomato : 2 medium (chopped)
Green Chillies : 3-4 (Slit open lengthwise)
Ginger : 2 tsp
Garlic : 2 1/2 tsp
Turmeric powder : 1/2 tsp
Red chilli powder : 2 tsp
Coriander powder : 11/2 tsp
Homemade Garam Masala : 1/4 tsp (To Make Fresh Homemade Garam Masala : Fennel Seeds /Perum Jeerakam : 1 tsp, Cinnamon Stick/karugapatta : 2 inch pieces, Cloves/Grambu : 2, Star anise / Takkolam : 2, Green Cardamom //elakka : 2 pods (or) Use Store Bought Garam Masala : 1/4 tsp)
Fennel seeds powder : 1/4 tsp
Curry leaves : 1 sprig
Oil : 3 tbsp (Preferably coconut oil )
Salt to taste



How to make Fresh Homemade Garam Masala :
1. Dry roast all the ingredients listed above for "To Make Fresh Garam Masala" and grind to fine powder and keep it aside. (Note : You can prepare this in bulk and store, but fresh masala taste too good or use store bought garam masala.)
How to Kallumakkaya Varattiyathu – Kadukka Varattiyathu | Mussels Fry – Kerala Style :

1. Wash and clean the mussels shells well and place them in pot with enough water and boil till the shells open. (
Note :
Do not use shells that have not opened,
Click here
or
Check here
for how to clean the mussels)
2. Drain all the water and scoop out the mussels from the shell ,clean the dirt and remove the black part in the bottom of the mussel well.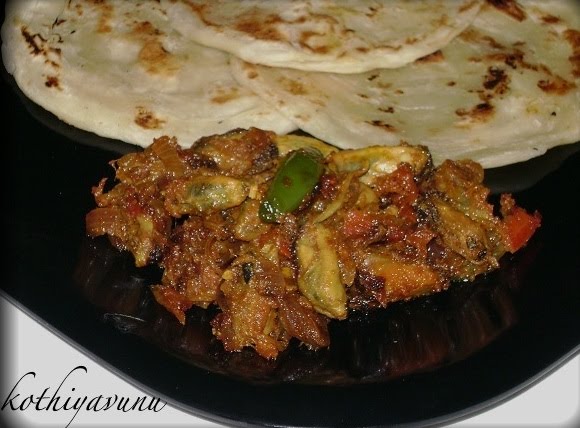 3. In a cooking vessel (preferably in 'Kalchatti' an Earthen pot) add the cleaned mussels with little salt,1/4 tsp turmeric powder, 1/2 tsp red chilli powder and cook for 10-15 minutes or till its done.
4. In a wok/kadai heat oil,when its hot add ginger,garlic paste and sauté for few minutes.
5. Add the thinly sliced onions and sauté till it turns to till turns to translucent and light golden brown.
6. Now add the chopped tomato, green chillies & curry leaves and sauté for a while.
7. Reduce the fire to medium and add all the spice powder and sauté till raw smell goes (Note : make sure not to burn the spices)
8. Add the cooked mussels and stir fry till it turns to brown & crispy,adjust the salt & spice powders.
9. Serve hot with Parota Steamed rice or any Indian Bread.