Mutta Kothu Parotta is a lick smacking recipe from the state of Tamilnadu in South India.The word Kothu means 'chopped' in Tamil. Kothu parotta literally translated means minced layered bread and scrambled egg topped with spicy sauce which is very famous in street shops called "thattu kadai" (literally, Plate Shop where food is served in a plate on the road side).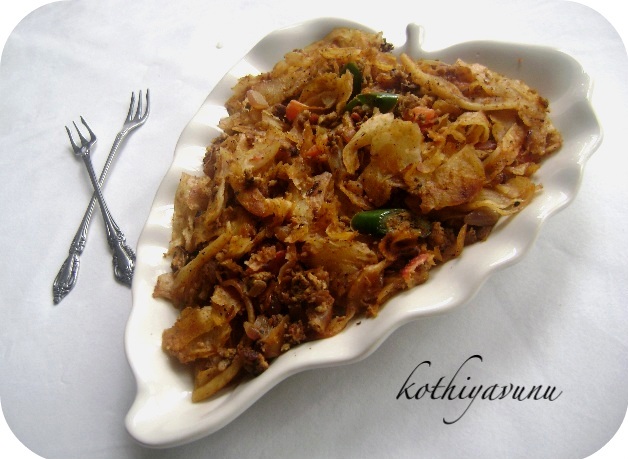 Traditional way to make a Kothu parotta is to use a preheated iron skillet or a heavy cast iron griddle specific for this purpose. The Parotta (multi layered bread) is cut or chopped with the use of two metal blades on wooden handles held on both hands on this sheet or skillet. The clashing of metal blades and the skillet creates a very distinctive musical sound which kind of announces the making of this Kothu to the passersby..So, here you go, the recipe of my all time favorite.


Mutta Kothu Parotta Recipe – Muttai Kothu Parotta Recipe – Egg Kothu Parotta Recipe – Minced layered bread & Scrambled Eggs topped with a Spicy gravy.
Preparation Time : 15 mins
Cooking Time : 30 mins
Serves : 2-3


Ingredients :
Parotta : 5 nos (fresh or frozen, shredded)
Onion : 4 (medium,finely chopped)
Tomato : 1 (large)
Green chilies : 2 (sliced)
Red Chilli powder : 1 tsp or to your spice level
Black Pepper powder : 1/2 tsp
Curry leaves : 1 sprig
Egg /Mutta : 3
Salna /Spicy Mutton /Chicken Gravy : 1/2 cup
Oil : 1 tbsp
Salt to taste
How to make Mutta Kothu Parotta – Tamilnadu Style Kothu Parotta :
1. Click here and prepare parottas from scratch or cook the frozen parottas according to package instructions and let it cool. Once cooled shred the parottas into irregular strips and keep aside.
2. Beat the eggs with mutton gravy and keep it aside.
3. Heat hot iron skillet or a heavy cast iron griddle or pan with 1tbsp oil, add the chopped onions along with curry leaves,green chilles and saute for a few minutes until the onions turn translucent.
4. Add the red chilly powder and pepper powder and mix well.
5. Now crush the tomatoes well with hands into the onion and keep sauteing until everything is well blended.
6. Clear the center of the skillet and pour the beaten mutton eggs gravy , add the required salt and combine well.(Note : Initially it might look little sticky, as the eggs are cooked it will turn into crumbly little crepes coated partially with eggs and masala)
7. Finally add the shredded parotta pieces and mince by using two heavy iron spatulas until everything is well mixed…Serve hot and Enjoy!
Notes :
You can prepare kothu parotta without salna (spicy chicken/mutton gravy), either way it's a delicious.
Vegetarian can use any veg spicy gravy like kara kuzhambu.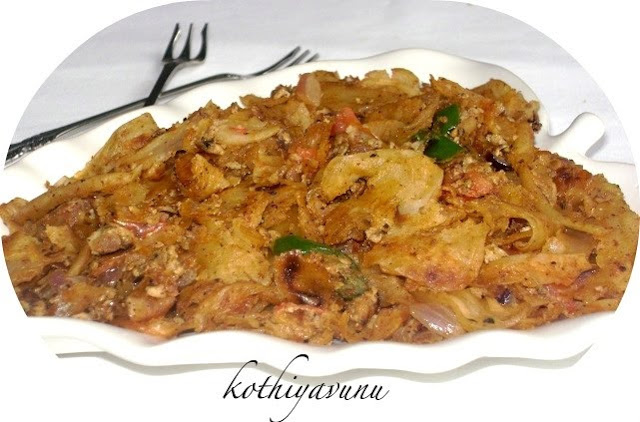 Click here for more Breakfast recipes.
Cheers!
Sangeetha