Nepali food, which is simple and subtle in flavor, is prepared by using unique blend of common ingredients and spices.Momos are an Asian dumpling that are a delicacy in Nepal and Tibet, which I learnt from my neighbor 'Mrs.T'.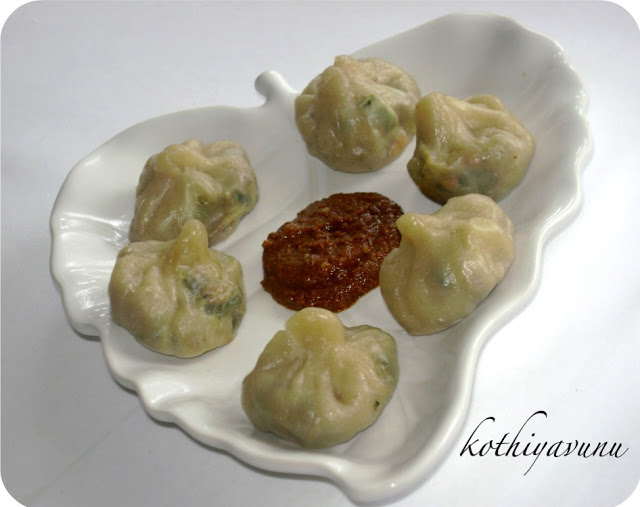 They are steamed dumplings with a minced meat or vegetables mildly spiced with onions, ginger, garlic and spices.This healthy traditional Tibetan dumplings are served hot and are often enjoyed as a starter with a spicy chutney or sauce. I thank my friend for sharing such a wonderful recipe with us..:) Here is the recipe as I know it and I hope you will love it!
Recipe for Nepali Vegetable Momo / Vegetable Stuffed Dumplings
Makes 20-30 Dumplings.
Ingredients :
Dough for Wrapper :
All-purpose flour : 3 cups
Oil : 1 tbsp
Water : 3/4 cup or as required
Salt to taste
For Vegetable Filling :
Cabbage : 1/4 cup (finely chopped)
Carrot : 1/4 cup (grated)
Spinach : 1/2 cup (finely chopped)
Spring Onions : 1/4 cup (finely chopped)
Ginger : 1 tsp (finely chopped)
Garlic : 1 tsp (finely chopped)
Green Chillies : 3-4 (finely chopped)
Cheddar Cheese : 1/2 cup (shredded)
Black Pepper Powder : 1/2-1 tsp (Freshly grounded)
5 Spice Blend : 1/4 tsp (Fenugreek seeds,fennel seeds,Mustard seeds, Cumin seeds & Sesame seeds, dry roast & blend it to powder,i have taken in equal quantity,each 1/2 tsp. )
Soy Sauce : 1 tsp
Oil/Butter : 1 tbsp
Salt to taste
Method of Preparation :


For Dough :
1. In a large bowl combine flour, oil, salt, Add water gradually and knead until the dough becomes homogeneous in texture. Cover and let stand for at least 30 min.
For Stuffing:
1. Heat the oil in pan, when its hot, add chopped ginger, chopped garlic and saute it for a second.
2. Add the all chopped vegetables and saute it for 2-3 minutes.
3. Add black pepper powder, salt to taste, and mix well, switch of the flame and add shredded cheese and allow it cool.
4. Season with soy sauce, five spice blend powder and mix well to combine all ingredients.
Making Momo Wrapper :
1. Give the dough a final knead and Divide the dough into three portions.
2.Take one portion and make a ball of it and flatten it on your rolling board.
3. Dust working board with dry flour and roll out a rectangular-like shaped strip of dough,break off small rounds about 3 inches all around, maybe a small bit bigger. Roll these in your hand so that they too are smooth and without folds.
4. Now gently flatten each one for the rolling of the wrapper. ( Note : It is essential that the middle portion should be a bit thicker than the edges so that what you are packing doesn't seep through during packing and steaming.)
5. Hold the edges of the semi-flattened dough with one hand and with the other hand begin rolling the edges of the dough out, swirling a bit at a time and make 3-inch diameter circular shape.
6. For packing hold wrapper on one palm, put one tablespoon of the filling mixture and with the other hand you are going to make pleats. Use your thumb as the stable point and use your first two fingers to weave the folds together, and around to a closing circle. Make the pleats small, and you'll need to slightly swirl your momo to accommodate your pleating hand.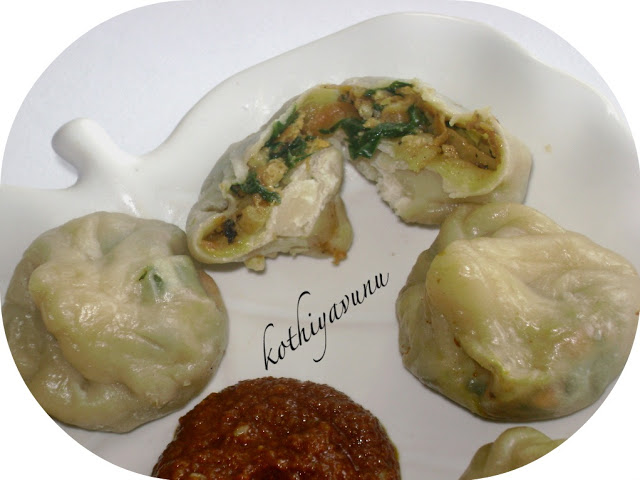 Cooking Momos :
1. Brush steamer pan lightly with oil to prevent stick in.
2. Arrange momos on a perforated steamer basket, not touching each other (Note : Momos will swell during steaming.)
3. Place steamer over a pot of boiling water, Close the lid, and allow steaming until the dumplings are cooked through, about 8-10 min. Take the dumplings off the steamer.
4. Serve with a hot Chutney or sauce & enjoy!!!
Notes : Non Vegetarians could replace with meat.
For more Starter Recipe click here
Happy Cooking!
Sangeetha